Five Spices Sweet Potato Gratin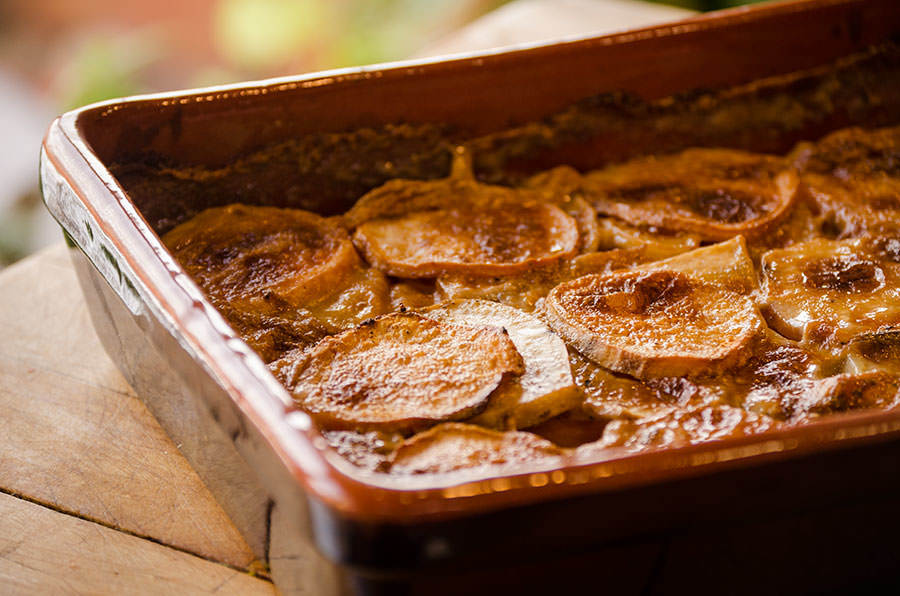 This aromatic chinese five spices blend replaces nutmeg in this classic recipe that we have revisited. If you are unable to find white, sweet potatoes, you can use regular potatoes.
Don't forget to salt a little more than usual to compensate for the sweetness of the potatoes.

Ingredients
½ garlic clove
4 Tbsp soft butter
1 lb white sweet potatoes, peeled and finely sliced
1 lb orange sweet potatoes, peeled and finely sliced
salt to taste
2 tsp Chine Five Spices, ground
1½ cup heavy cream (35%)
½ cup milk
Method
1

Preheat oven to 400 °F. Vigorously rub half a garlic clove on the bottom of an 8-inch X 12-inch baking dish. Using your fingers, spread half the butter on the bottom and sides of the dish.

2

Place one layer of sweet potatoes in the dish; season with salt and a sprinkling of spices.

3

Repeat until all the sweet potato slices have been used.

4

Meanwhile, boil cream and milk; pour on sweet potatoes. Dot with remaining butter.

5

Cook for 15 minutes in oven. Reduce temperature to 325 °F and continue cooking until potatoes are tender and cream has thickened (25-30 minutes longer). If necessary, test with the point of a knife to see if potatoes are cooked.

6

Remove from oven and let rest for at least 10 minutes before serving.