Flattened chicken and roasted potatoes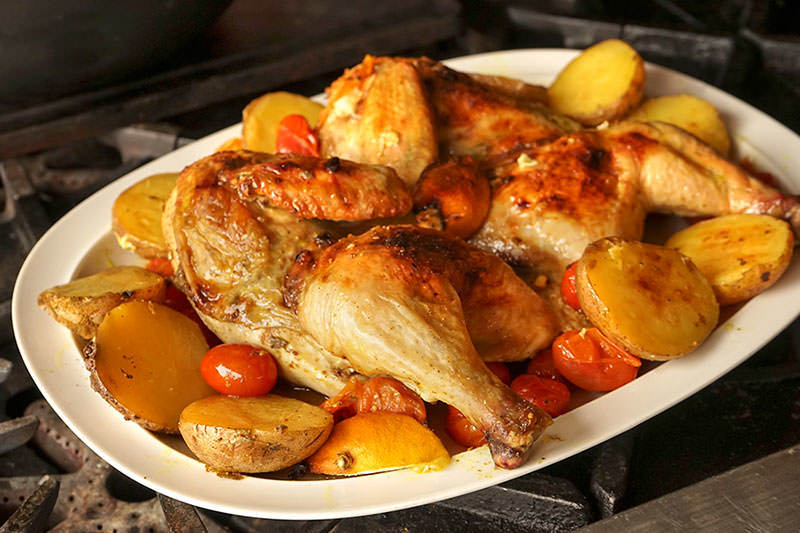 The real charm of this recipe is found its great balance of tastes and flavours. The chicken is fragranced with a very mild curry, and the potatoes are elevated by a hot, peppery spice blend. 
Ingredients
1 whole chicken, 3-4 lbs
3 garlic cloves, chopped
2 tsp White Curry, ground
2 Tbsp coarse sea salt
2 Tbsp olive oil
2 lbs new potatoes
¾ lbs grape tomatoes
2 tsp Meen Masala, ground
½ lemon
Splash of olive oil
Method
1

Slice the chicken between the breast bone and then flatten.

2

Mix together the garlic, ground White Curry, and half the salt. Rub the spices all over the chicken making sure to go under the skin.

3

Place the chicken on a large platter. Sprinkle the balance of the coarse salt on the chicken skin, cover with plastic film and refrigerate overnight, time permitting.

4

Preheat oven to 425F (220C).

5

Pour the oil in a pan large enough to accommodate the chicken. Cut the potatoes in two and place them flat side down in the pan. Add the tomatoes and sprinkle with the ground Meen Masala.

6

Put the chicken on top and squeeze the lemon over it. Cut the lemon in four and place the wedges around the chicken. Sprinkle with olive oil.

7

Place in the oven. Roast for 20 minutes then lower the oven to 350F (175C) and cook for 1 hour longer or until done.