Bison Liver with Cumin and Mint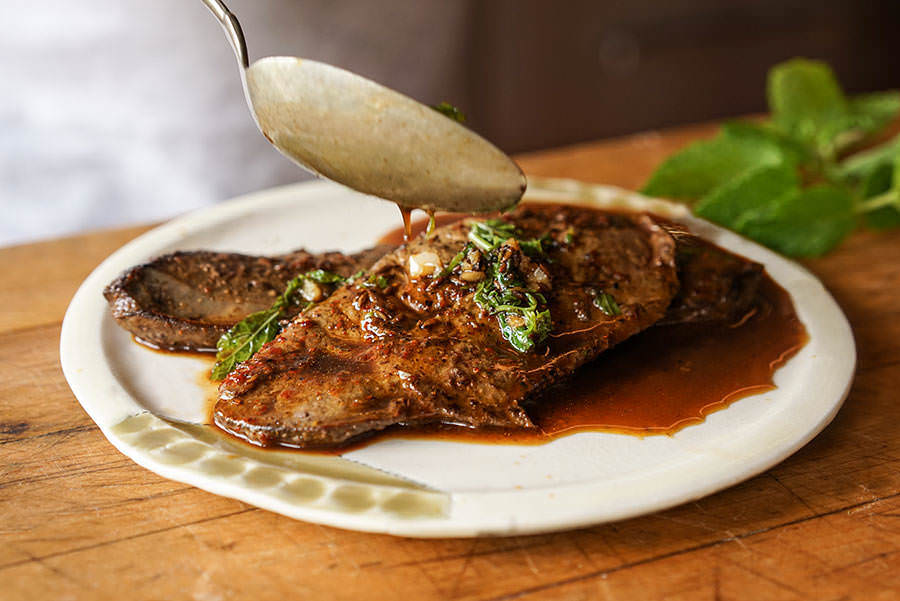 This Middle Eastern recipe is good with all kinds of liver, as well as kidneys. The secret to making if flavorful is to keep the livers a little rare so they don't dry out.
Ingredients
2 slices bison liver or other liver
1 tsp cumin
1 Tbsp Aleppo pepper
2 cloves garlic
4 Tbsp fresh mint
Salt to taste
2 Tbsp clarified butter or coconut oil
4 Tbsp wine vinegar or lemon juice
1 glass white wine
Method
1

Wash liver slices thoroughly and pat dry with a paper towel. Season liver with cumin and Aleppo pepper. Finely chop garlic and mint together and mix with the salt.

2

Heat a pan on medium. Add clarified butter and cook for 1 minute. Flip and cook 1 minute more. Place liver on a plate.

3

Pour in vinegar, wine, and chopped mint mixture into the pan. Stir 10 seconds and pour onto the liver.