French peas and lettuce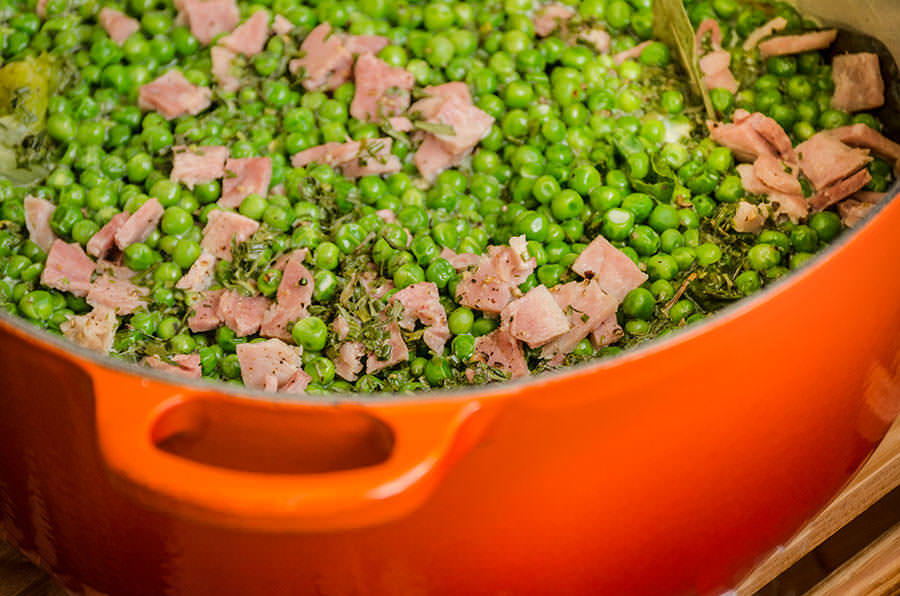 Lots of butter, fresh cream and egg yolk - just the way things used to be done in the old days in the Loire Valley in France. This recipe must be tried, if only once in a lifetime.
Ingredients
½ lb unsalted butter, diced
1 curly lettuce or Boston, washed
2 oz ham
4 cups small shelled peas
salt and white pepper
½ cup crème fraîche or heavy cream
1 egg yolk
2 Tbsp classic fine herbs
1 pinch sugar
Method
1

Put half the butter and the bay leaves in a heavy pan.

2

Tear lettuce leaves and put them in the pan. Spread diced ham, peas and remaining butter evenly. Salt and pepper to taste (remember the ham is already salty).

3

Cover and cook on low heat. (Heating slowly allows the lettuce to yield enough water in which the peas will simmer. Check regularly and shake the pan gently if necessary - resist the temptation to stir.)

4

Meanwhile, beat all remaining ingredients together in a bowl. When peas are cooked (15-20 minutes), pour cream mixture all over. Shake gently so that cooking juices mix well with the thick cream. Remove from heat as soon as it begins to boil. Serve.