Fried green tomatoes and American-style remoulade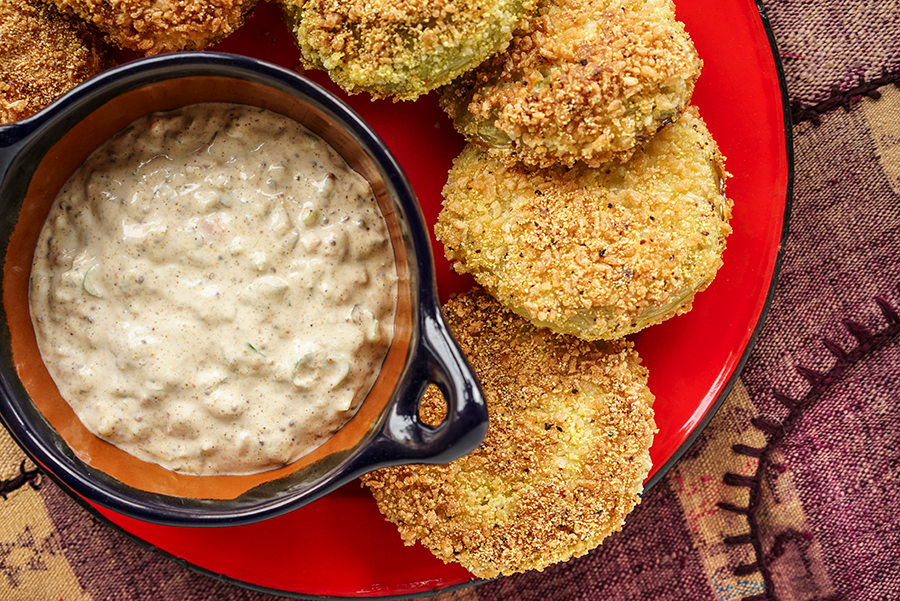 A surprising and delicious recipe that makes good use of the abundance of green tomatoes at the end of the season – very popular in the Southern United States!
Ingredients
4 large green tomatoes
Salt
1 cup bread crumbs
½ cup corn meal, medium-ground
1 tsp Korean pepper or hot chilies, to taste
2 eggs
1 cup flour
1 cup vegetable oil (approx.)
American-style remoulade
½ cup mayonnaise
2 Tbsp capers, chopped
2 Tbsp pickles, chopped
2 green onions, sliced
2 Tbsp lemon juice
3 Tbsp Old Fashioned mustard
1 Tbsp Dijon mustard
Hot sauce, to taste
1 Tbsp East Coast blend, ground
Method
1

Mix all the remoulade ingredients in a bowl. Set aside, refrigerated. 





2

Cut tomatoes into 3/8 to ½ inch slices. Salt generously and place on a paper towel for fifteen minutes, to drain.  




3

Mix the bread crumbs, cornmeal, chilies and a pinch of salt in a bowl.


Beat the eggs and 1 Tbsp water in another bowl. Place the flour in the last bowl.




4

Using two forks, submerge the tomato slices in the flour. Shake off the excess gently. Dip into the beaten eggs, then into the bread crumb mix. Place the tomatoes on a baking sheet, use your fingers to apply pressure, let rest for 5-10 minutes to ensure that it adheres well. 




5

Pour ¼ inch oil into a large pan and place on medium-hot. Put several tomato slices in the pan, making sure they don't touch. Brown for 3 minutes on each side. Adjust the heat if the tomatoes brown too quickly. Place them on a paper towel, or better, on a grill to drain.




6

Before continuing frying the remaining tomatoes, place a small strainer over a bowl, and pour in the oil to remove any remaining bread particles that could eventually burn. Wipe the pan with a paper towel, for the same reason, then return the filtered oil to the pan, adding more oil, if necessary.





7

Continue until all the tomatoes are cooked. Serve hot accompanied by the remoulade.