Fried Tofu with Singapore Curry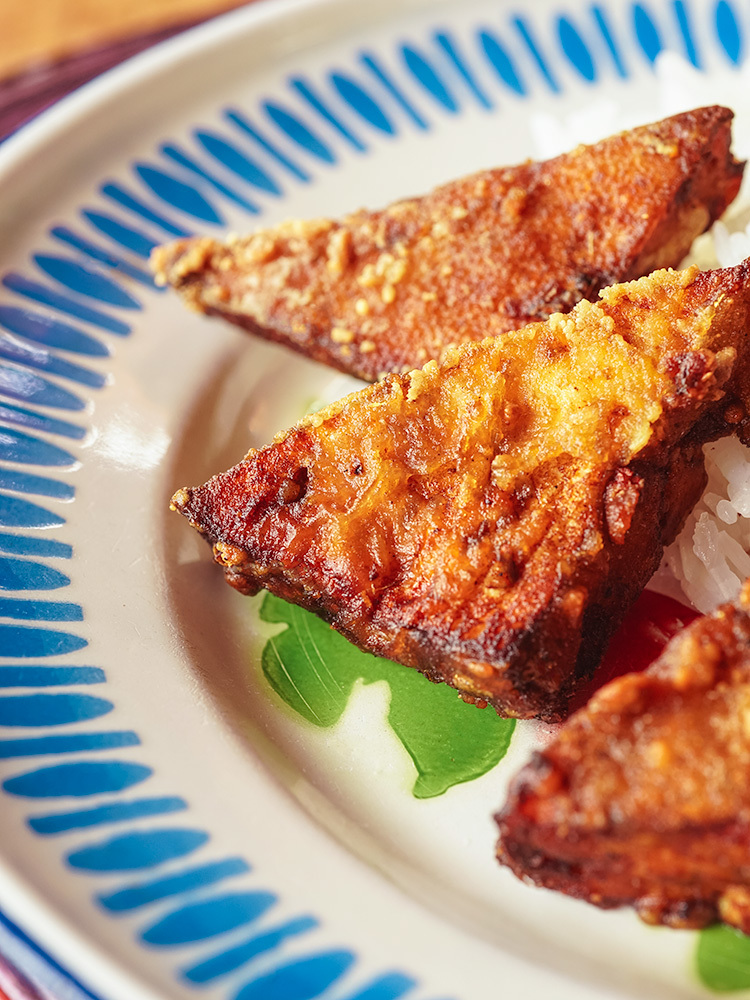 The simple corn starch coating on this tofu helps lock in the flavor of the marinade. It's the star anise in the Singapore Curry that really makes this recipe, but it can be replaced by another curry powder or even Chinese Five Spice.
Do your best to find a semi-firm tofu, one that's firm enough to fry but still soft inside. It's best to fry this tofu in batches so it crisps properly.
Ingredients
1 block (454 g) firm tofu in water
2 Tbsp light soy sauce
1 tsp dark soy sauce
1 Tbsp mirin or Chinese yellow wine or ½ Tbsp sherry
2 tsp toasted sesame oil
2 Tbsp Singapore Curry, ground
1½ tsp salt
1 tsp sugar
¼ cup corn starch
Vegetable oil for frying
Method
1

Slice tofu into small, ¼-inch thick triangles. Place in a large bowl.

2

In another bowl, mix soy sauces, mirin, sesame oil, Singapore Curry, salt and sugar together.

3

Pour marinade over the tofu and stir gently so the tofu is evenly coated. Try not to break any of the delicate pieces of tofu.

4

Place tofu and marinade in a plastic container or bag and marinate for at least 2 hours or overnight.

5

Remove the tofu from the marinade and let drain.

6

Pour oil into a wok on high heat. The oil should be at least 1 inch thick.

7

While oil is heating, pour corn starch onto a large plate. Dredge each piece of tofu in the corn starch. It should be thinly but evenly coated.

8

When oil is hot enough to fry, add a few pieces of tofu and fry in batches.

9

Fry tofu until crisp and slightly brown, about 2 minutes on each side. Remove from oil with a slotted spoon and place on a paper towel to absorb the oil.

10

This tofu is best served with rice and a saucy vegetable on the side.