Gado Gado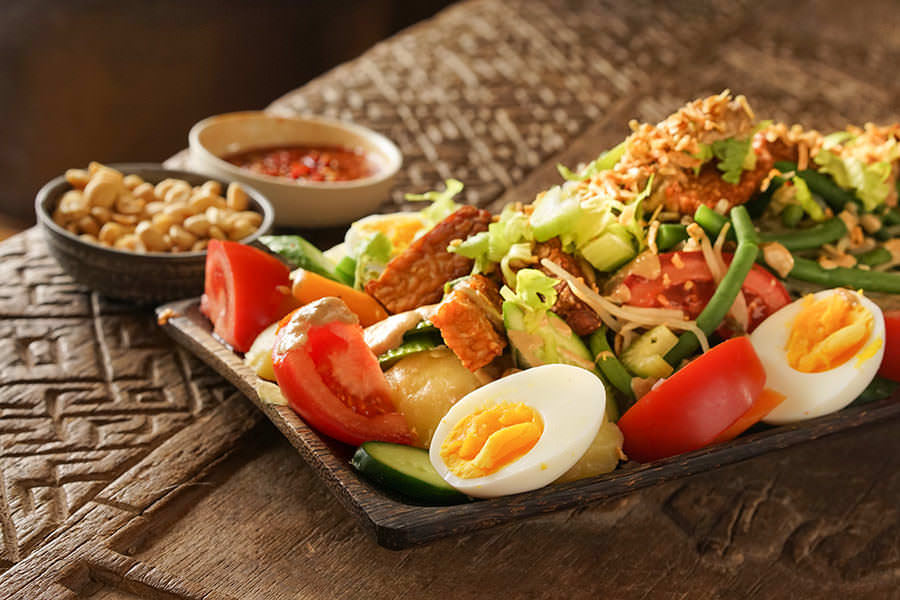 This Indonesian salad is served with peanut sauce, steamed rice, and can be cool or room temperature. If you don't have kentjur or lime leaves, just use ½ tsp. Base Gede.
Peanut sauce
1 hot chile
2 cloves garlic
¼ tsp Shrimp paste or 1 tsp fish sauce
1 Tbsp soaked tamarind or 2 Tbsp lime juice
½ cup plain peanut butter or roasted peanuts
1 cup coconut milk
½ tsp salt
1 Tbsp palm sugar or brown sugar
Salt to taste
Water
Gado Gado salad
2 medium potatoes
2 cups cabbage, shredded
1 green beans
1 cup carrots, sliced
1 cup bean sprouts
Garnishes
1 block tempeh or tofu
½ cup oil (for frying)
1 medium cucumber, sliced
1 tomato, quartered
4 hard-boiled eggs, halved
¼ cup fried onions*
¼ cup celery leaves, chopped
*You can find fried onions in Asian markets or see our recipe to make them yourself.
Method
1

Grind kentjur in a mortar and pestle.

2

Place all peanut sauce ingredients, except the water, in a blender and reduce to a creamy sauce. Add water if needed (between ½ cup and 1 cup).

3

Pour the sauce in a pot and boil for 5 minutes. Set aside.

4

Boil potatoes in salted water. Chop.

5

Blanch cabbage in salted water. Remove from heat, drain, and cool.

6

Blanch other vegetables, one after the other.
Assembly
1

Chop the tempeh into small cubes. Fry in hot oil until golden.

2

Place the cooked potatoes and blanched vegetables on a large plate and pour half the sauce on top.

3

Garnish with the fried tempeh, eggs, tomatoes, cucumber, celery leaves and half the fried onions.

4

Serve with the remaining sauce and fried onions on the side.