Garlic and Scallion Curry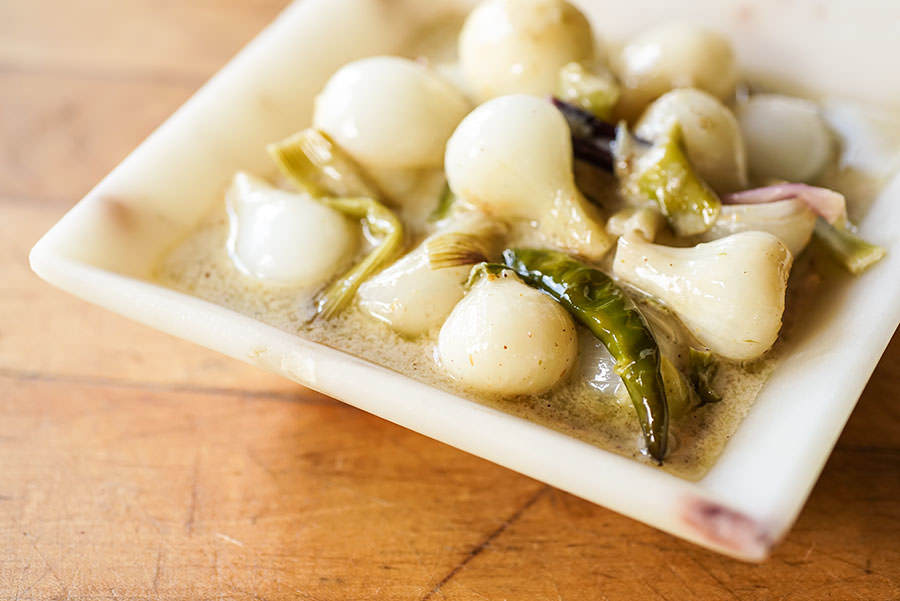 The creativity of Sri Lankan cooks never ceases to amaze us. In Sri Lanka, we have eaten leek, beet, rhubarb and even cucumber curries. They are all, without exception, very good.
One night, in our own kitchen, we managed to recreate, from memory, a dish that we had eaten purely by chance at a village ''hole in the wall''. This curry -more of a sauce really- is a great accompaniment to a grilled meat of roast chicken and rice.
Ingredients
2 packs of large scallions
4 Tbsp coconut oil or vegetable oil
30 garlic cloves, peeled
4 small green hot chillies
½ tsp fenugreek
1 tsp white curry, ground
Salt, to taste
1 cup coconut milk
3 Tbsp tamarind pulp ou lemon juice
Method
1

Clean the scallions. Separate the bulbs from the green leaves. Chop half the leaves. Set aside the bulbs and the chopped leaves. Save the remaining leaves for another purpose.

2

Heat the oil on medium heat and slowly cook the whole garlic cloves and the hot chillies until the are golden (5-7 minutes).

3

Add the fenugreek and brown for a few seconds. Add the chopped scallions leaves, white curry and salt. Cook until the leaves begin the whither.

4

Pour in the coconut milk and the tamarind. Mix well.

5

Let simmer for a few minutes until the garlic is cooked.

6

Remove from the heat and let rest for 15 minutes before serving.

7

Be careful with the whole green chillies!