Garlic Scape, Potatoes and Corn Curry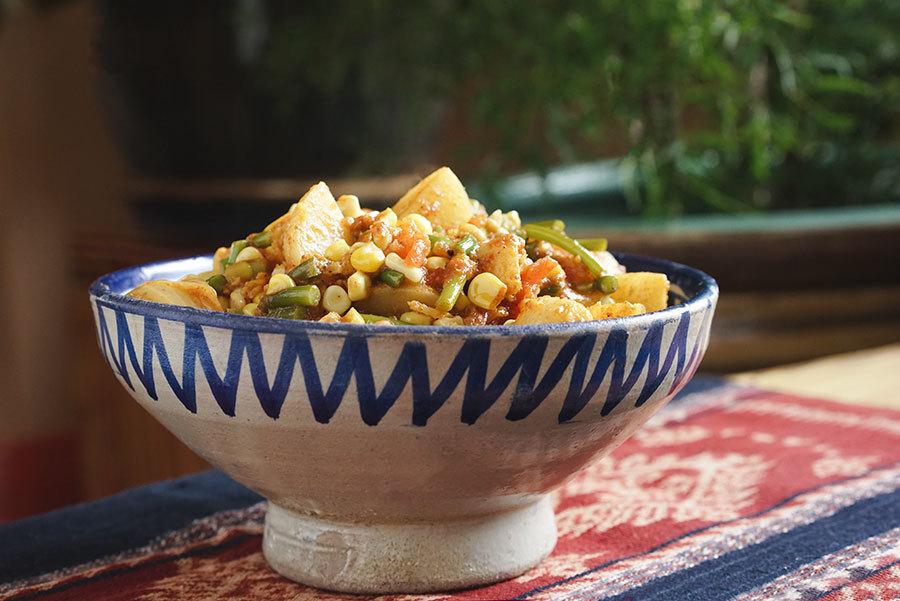 A quick summer, vegetable curry that's easily adaptable according to the season and can be conveniently prepared throughout the year.
Ingredients
2 Tbsp Chettinad Curry
2 garlic cloves 
2-inch piece of ginger 
2 Tbsp coarse sea salt 
3 large tomatoes 
1 large onion 
4 Tbsp coconut oil 
1 cup new potatoes, cubed
1 cup corn kernels 
1 cup garlic scape stems, cut in pieces
Salt, to taste  
Method
1

Grind the spices in a mortar, then grind the garlic, ginger and salt, to make a paste.

2

Cut the tomatoes in two and remove the seeds and liquid.

3

Place a cheese grater over a bowl and grate the tomatoes to remove the pulp. Discard the tomato skins. 
Cut the onion into large cubes. Heat a pan with the coconut oil and brown the cubed onion for 3 to 4 minutes to tenderize.

4

Incorporate the curry paste and brown for another 2 to 3 minutes while stirring, until odorant. Add the tomato pulp and cook for 2 more minutes.

5

Add the potatoes, cover and cook until barely tender. Incorporate the corn and the garlic stems. Add a little water, if the curry is dry and let cook another 5 to 10 minutes.

6

Let rest for 15 to 30 minutes before serving.