Gaspesian Pot-au-feu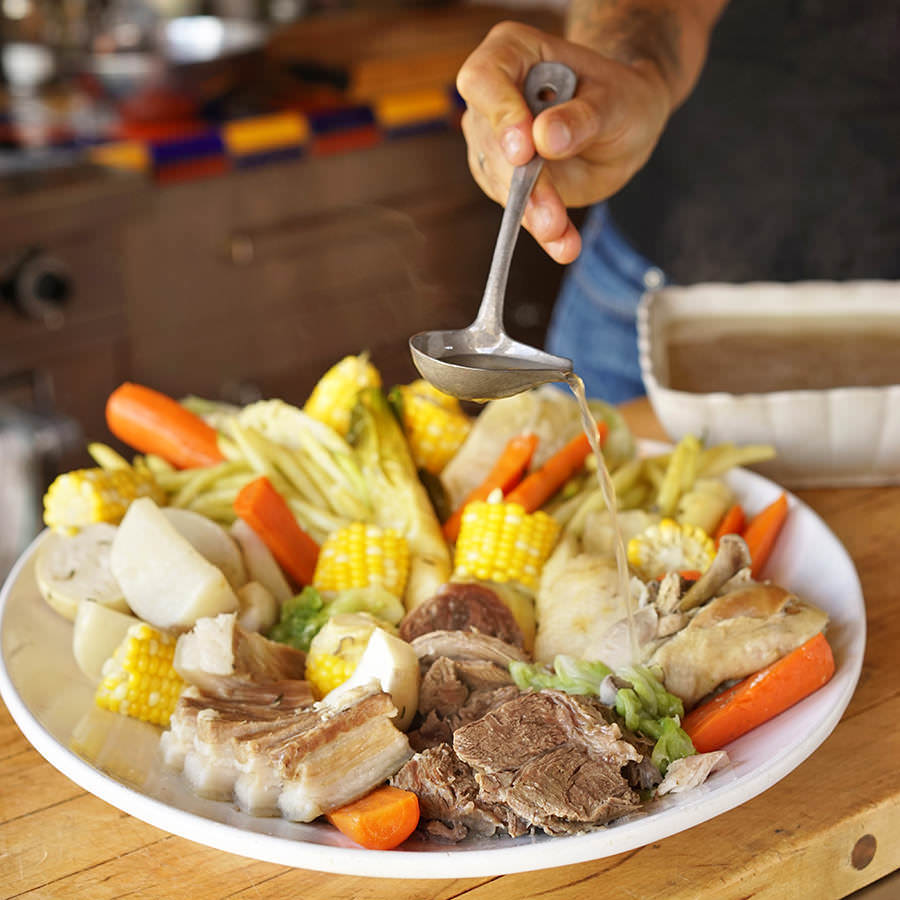 This Québécois pot-au-feu differs from one part of the Gaspé Peninsula to the next and from one family to the other. The basic ingredients are simple: fresh or cured meat, seasonal vegetables, a few herbs from the garden; it's made with whatever you have on hand. At the end of summer, it's common to see it with corn, which gives the bouillon a unique flavour.

Ingredients
2 lbs bone-in beef shank
2 lbs salt pork or pork
1 chicken
1 carrot
1 onion studded with 4 cloves
2 stalks celery
1 tsp whole black pepper
12 cups various seasonal vegetables (cabbage, turnip, wax beans, carrot, parsnip, leek, etc.)
4 ears corn
Parsley, green onions for garnish
Method
1

Rinse all meats in cold running water. Fill a large pot with 20 cups of water. Place pork and beef in the pot. Bring to a boil and skim. Add carrot, onion with cloves, celery and spices. Reduce heat and simmer for 1¼ hours.

2

Add chicken. Continue simmering for another 45 minutes.

3

Remove the carrot, studded onion and celery. Add raw vegetables, starting with the ones that take the longest to cook (e.g., turnips or carrots).

4

Add tender vegetables 15 minutes later. Remove from heat when vegetables are cooked.

Salt, if needed, and garnish with parsley and green onions.