Pecan and cinnamon honey cake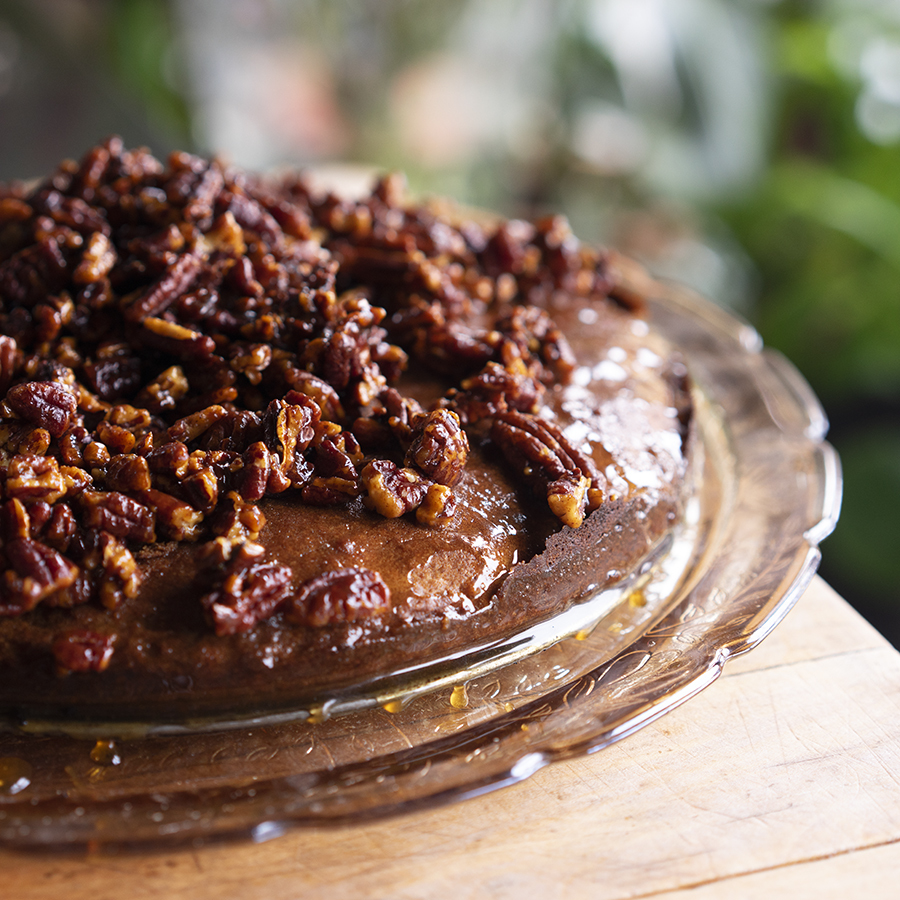 A Mexican confection that is perfect when served with coffee or ice cream. The quality of the honey used makes all the difference in this recipe; a dark, thick, fragrant honey would be ideal.
Ingredients
1 cup all-purpose flour
1 Tbsp cornstarch
1 Tbsp baking powder
1 pinch salt
2 Tbsp cinnamon, ground
1 cup pecans
½ cup + 2 Tbsp sweet butter
4 eggs
½ cup sugar
1 cup dark, fragrant honey
¼ cup water
¼ cup lime juice
Method
1

Heat oven to 350 °F.

2

Sift the flour, cornstarch, baking powder and salt into a bowl. Add cinnamon and mix well. Set aside.

3

Finely chop the pecans in a food processor without making a paste. Set aside.

4

Melt butter in a small pan. Set aside.

5

Butter then flour a 10-inch cake mold.

6

Separate the egg yolks from the whites.

7

Beat the yolks in a bowl until thick and creamy. Incorporate the sugar and beat for another 5 minutes. Set aside.

8

Place half the honey into a small pan. Heat on low for one minute. Using a large bowl, whisk the egg whites into peaks and continue beating, slowly pour the hot honey into the egg whites. Beat for another two minutes. Set aside.

9

Using a spatula, incorporate ¼ cup of water and lime juice into the beaten egg yolks. Add the chopped pecans. Incorporate the flour blend slowly, alternating with the melted butter, being careful not to include any residue from the bottom of the pan.

10

Pour ⅓ fluffy egg whites into the dough and incorporate using a spatula.

11

Pour the dough on to the remaining egg whites and mix delicately with a spatula.

12

Spread the dough into the mold. Place in the middle of the oven for 25-30 minutes until an inserted toothpick comes out clean after testing the middle of the cake.

13

Remove the cake from the oven and spread a half cup of the remaining honey on top the cake as a glaze. Let rest 1 hour before unmolding.

14

Decorate with remaining honey and caramelized pecans.