Gemista – Greek Stuffed vegetables with rice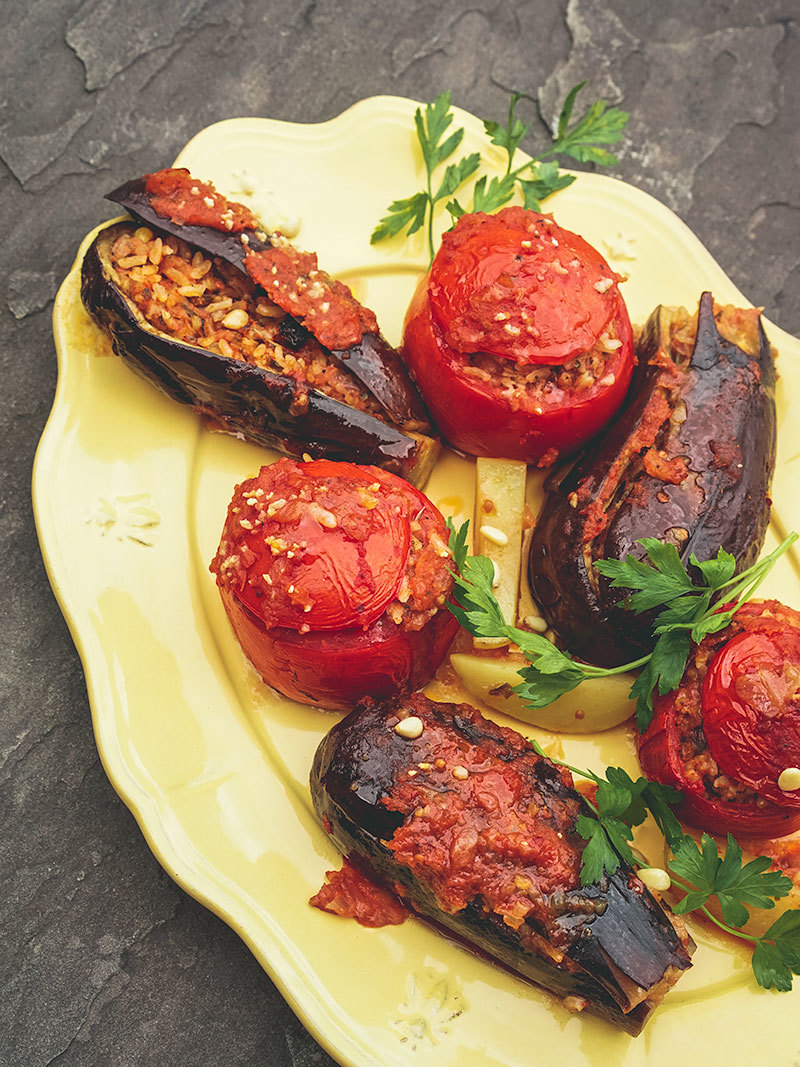 Vegetables stuffed with rice is very representative of traditional Greek cuisine. Of course, it would be unthinkable in Greece to serve this dish without adding a generous quantity of feta cheese! Sweet Peppers and/or zucchinis can of course be used instead of eggplants. Adding 2 tablespoons of pine nuts and raisins is a delicious alternative.
Ingredients
6 large tomatoes
4 medium eggplants
2 Tbsp ketchup
2 Tbsp tomato paste
1¼ cup olive oil
1 cup grated onion
Salt and pepper, to taste
1½ cup short grain rice
⅔ cup chopped parsley
2 Tbsp dried mint
2 large potatoes
Feta, for garnish (opt.)
Method
1

Heat the oven to 390 °F.




2

Wash the tomatoes and eggplants well. Slice the top off each tomato – set aside the top, and carefully remove the inner flesh with a spoon. Repeat with eggplants.




3

Put the vegetable flesh in a food processor and puree. Stir in ketchup and tomato paste and mix well.




4

Heat a pot on medium-high. Add half of oil and onion and cook for 2-3 minutes. Add the vegetable puree, salt, pepper and boil gently for 10 minutes.




5

Remove from heat and set ⅓ of the sauce aside.




6

Mix the remaining ⅔ of the sauce with rice, parsley and mint.




7

Fill the vegetables to ¾ with the rice mixture. Transfer to a cooking pan and cover them with their sliced off tops.





8

Peel and cut the potatoes into wedges. Place them between the tomatoes and eggplants.




9

Spread the remaining sauce and the rest of the oil on the vegetables, making sure each vegetable is well covered.




10

Cook in the oven for 1h45. Check from time to time and add a little water to the pan if needed. There should be some sauce remaining at the end.




11

Serve with crumbled feta cheese if desired.