Georgian tomato and cucumber salad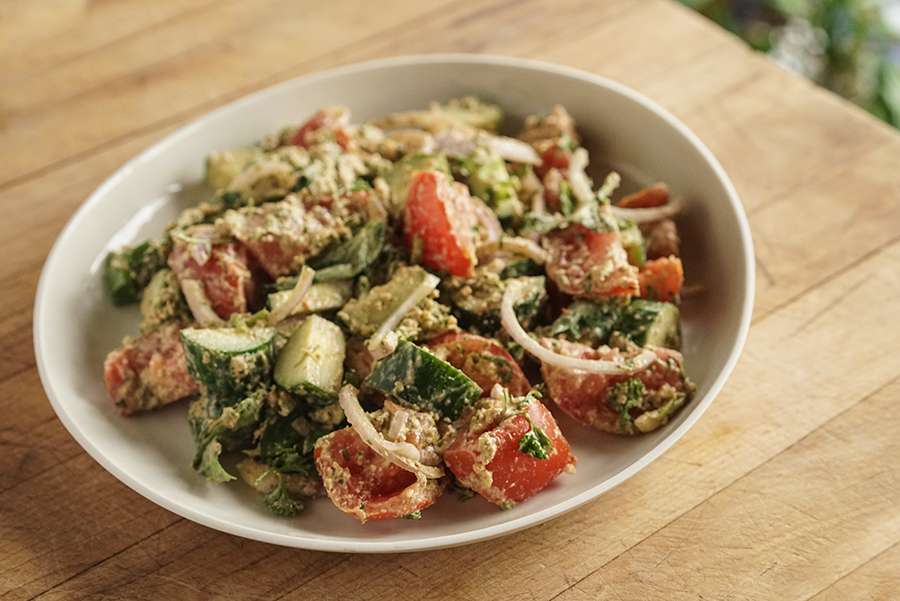 A deliciously fresh recipe. The nut and herb pesto can be refrigerated for 48 hours after being made.  
Ingredients
3 medium tomatoes 
1 medium English cucumber
½ red onion
1 green bell pepper (opt.)
¼ cup parsley
1 small bouquet of basil (purple, if possible)
2 garlic cloves
1 tsp salt
1 generous pinch of Cayenne pepper
2 tsp khmeli suneli, ground *
¾ cup walnuts
½ cup cilantro, chopped 
2 Tbsp white wine vinegar
2 to 4 Tbsp water  
*  or ½ tsp coriander seeds + ½ tsp blue fenugreek + 1 tsp marigold petals 
Method
1

Roughly dice the tomatoes and cucumber. Julienne the onion and cut the bell pepper into strips, then place all the vegetables in a bowl.

2

Chop the parsley and using your fingers, gently tear the basil leaves apart. Add to the bowl.

3

Place the garlic, salt, Cayenne pepper and spices in a mortar and pound to a purée.

4

Add the nuts and cilantro, continue pounding to form a rustic pesto. You can also use a food processor.

5

Dilute with vinegar and just enough water to create a more liquid paste.

6

Taste and adjust for salt, vinegar and the pepper, according to personal preference.

7

When ready to serve, pour the pesto on the vegetables and mix well.