Gingerbread cookies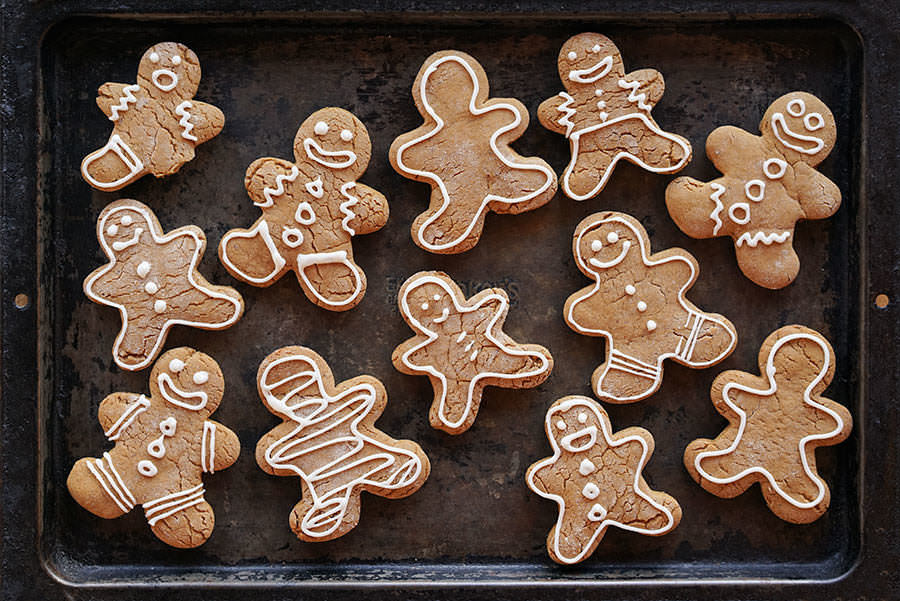 A classic as beloved by adults as it is by children. Makes around 3 dozen gingerbread cookies.
Ingredients
3½ cups all-purpose flour
1 tsp baking powder
½ tsp baking soda
¾ cup unsalted butter
¾ cup brown sugar
¾ cup molasses
1 tsp salt
1½ Tbsp gingerbread blend, ground
1 egg
Icing
1 egg white
1½ - 2 cups icing sugar
Food coloring (opt.)
Method
1

Stir baking soda and baking powder into the flour. Set aside.

2

Melt butter in a pot. Add brown sugar, molasses, salt and spices.

3

Transfer to a bowl and cool a few minutes. Add egg and mix well.

4

Incorporate dry ingredients into the molasses and butter with a wooden spoon until just uniform.

5

Divide dough into two bowl and wrap in plastic. Refrigerate for at least an hour.

6

Preheat oven to 350°F.

7

Remove one of the dough balls from the fridge and lay it on a floured surface. Roll the dough about ¼ inch thick. For crunchier cookies, roll it thinner, to taste.

8

Cut cookies out with a cookie cutter (as close to each other as possible to avoid wasting dough).

9

Lay on cookie trays and bake for around 8-10 minutes, until they begin to brown.

10

Let cook on the tray, then transfer to a cooling rack. Repeat with second ball of dough.

11

Prepare the icing. Whip egg white and add sugar gradually until it is well-incorporated and the icing is thick enough.

12

Transfer icing to an icing pouch and decorate cookies.