Honey, Mastic and Pistachio Ice Cream (No-Churn)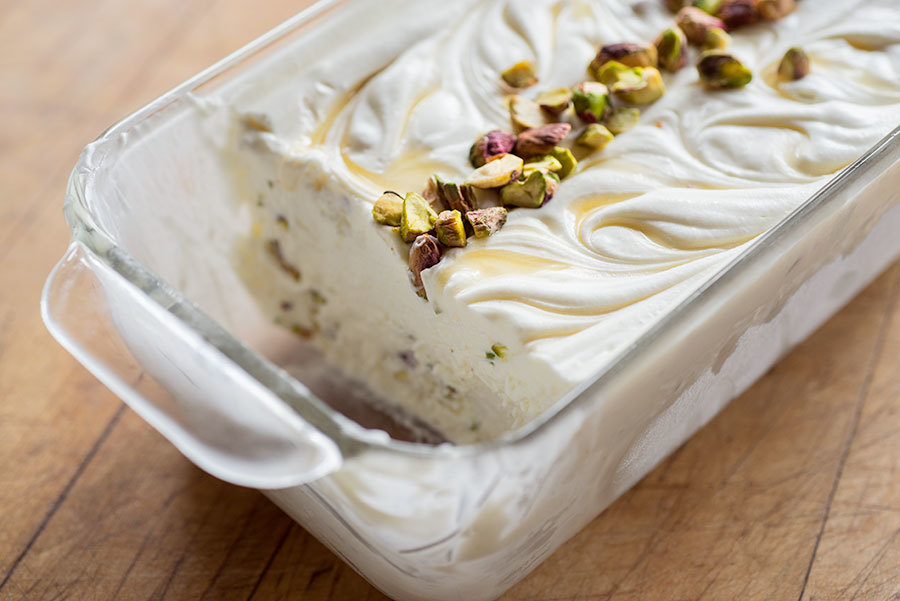 Home-made ice cream is easier to make than you think, even without an ice cream-maker. Thanks to this shockingly simple recipe, rich, velvety ice cream can be enjoyed within a few short hours. 
Mastic is a little-known Greek spice that adds a fresh and inimitable delicacy to desserts. As it is a resin, it's important to freeze this spice prior to grinding for use in recipes.
Ingredients
1 tsp mastic, ground finely
---
1 can (300 ml) condensed, sweetened milk
---
2 cups 35% whipping cream, very cold
---
¼ cup honey, plus more for decoration
---
½ cup shelled, unsalted pistachios, plus a small pinch for decoration
Method
1

Place mortar in freezer 30 minutes before grinding the mastic. When the mortar is well cooled, grind mastic finely.

2

Take out 2 tablespoons of milk and pour it in a pot on medium heat until it just begins to bubble. Turn off heat but keep the pot on the hot stove.

3

Add powdered mastic to the hot milk and whip vigorously to dissolve mastic completely.

4

Whip the very cold cream until peaks form.

5

Incorporate condensed milk into the whipped cream until homogeneous.

6

Add honey and continue to beat mixture.

7

While stirring constantly, slowly add milk and mastic mixture.

8

Chop pistachios roughly and incorporate into the mixture. Pour it all into a 1.5-liter (6 cup) container.

9

Decorate ice cream with a little honey and some pistachios (if you want).

10

Freeze for at least 6 hours before tasting.