Goat cheese nordic salad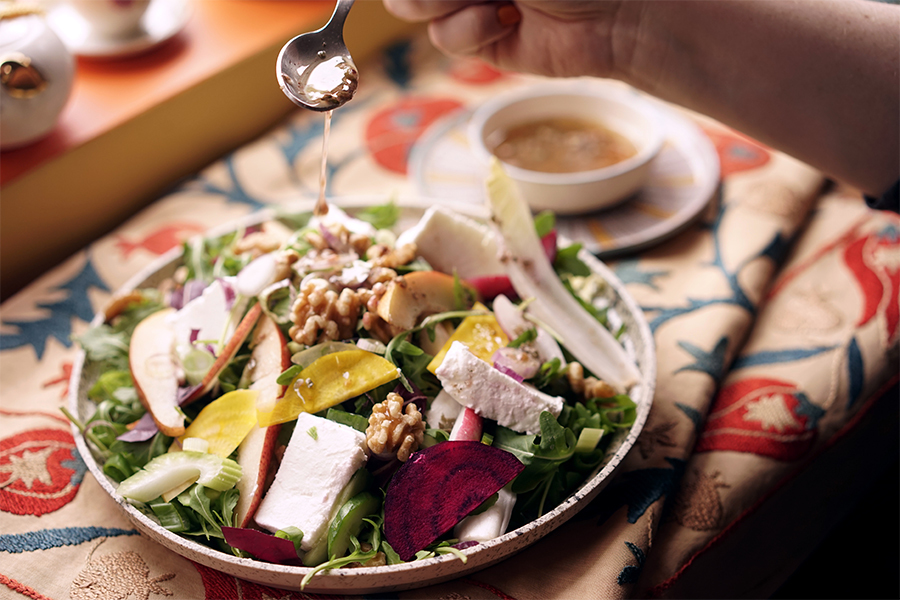 A fresh, colourful and nourishing salad, made with our Nordic Salad Dressing blend.
Ingredients
2 endives
5 radicchio OR red cabbage leaves
½ bunch arugula
1 small yellow beet
1 small red beet
2 green onions
6 radishes
2 celery branches
1 small cucumber
1 pear
4 oz fresh goat cheese
½ cup walnuts OR hazelnuts
Nordic Salad Dressing
Method
1

Prepare the salad dressing. Place the spices with the vinegar, water and salt in a resealable jar and mix well. Let rest 2-3 minutes, enough to hydrate the spices.

2

Add your oil of choice. Close the jar and shake well to mix. This dressing can be kept for several days refrigerated.

3

Prepare and cut the endives and radicchio.

4

Clean and spin dry the arugula.

5

Peel and thinly slice the beets, using a knife or a mandolin slicer.

6

Sliver the green onions, cut the radishes, celery, cucumber and the pear.

7

Place all the prepared ingredients in a bowl with half the nuts.

8

Pour in half the dressing and mix well. Taste and adjust to taste.

9

Put the salad on a large dish then place the cut slices of cheese on top with the remaining nuts.