Goat Cheese Tortellini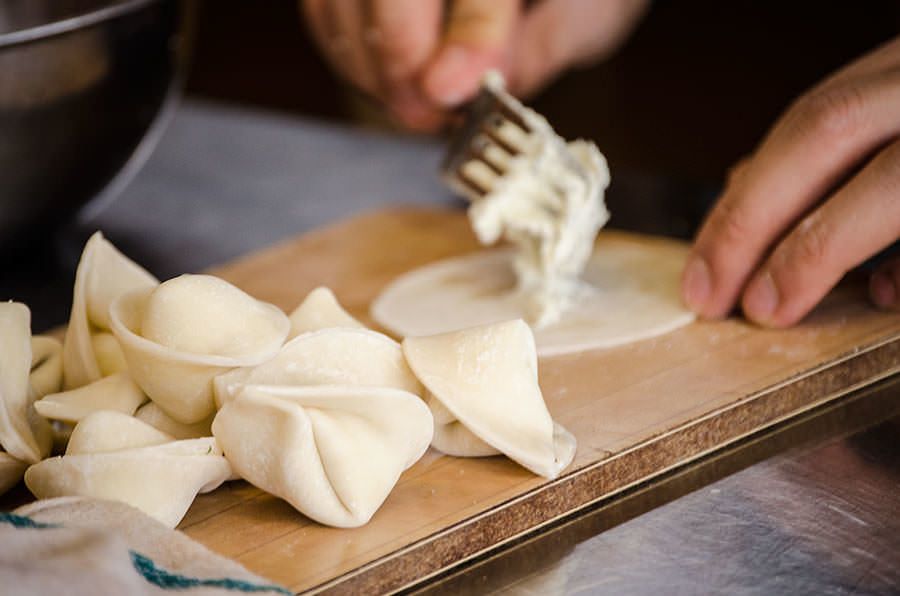 Few things are as satisfying as making one's own pasta. However, this recipe can be simplified by using Chinese dumpling wrappers which are available in the frozen food section of Asian groceries.
Ingredients
1 cup fresh goat cheese
2 Tbsp olive oil
pepper, to taste
1 pack of Kuo Tieh dumpling wrappers
Garnish
4 Tbsp olive oil
4 garlic cloves, sliced
Hot, dry chiles, to taste
½ yellow bell pepper, diced
2 tomatoes, diced
12 black olives, pitted
½ cup parsley, chopped
Method
1

Knead cheese with oil, pepper and herbs.

2

Place a bit of the stuffing on each piece of dough (dumpling wrapper). Dampen the edge the dough and fold into a half moon. Pinch half moon points together to make the tortellini. Place on a lightly-floured plate, making sure that tortellini do not touch. Set aside. Boil a pot of water.

3

To prepare the garnish, heat a pan on medium. Add oil, garlic and chiles. Once garlic is golden, add bell pepper and cook for 3 minutes. Add tomatoes and olives and cook for 2 more minutes.

4

Meanwhile, cook tortellini in salted, boiling water until they begin to float and the dough is al dente (2-minutes).

5

Remove tortellini using a slotted spoon and place in garnish pan. Add parsley. Mix gently and cook for 30 seconds. Serve at once.