Gooseberry Ketchup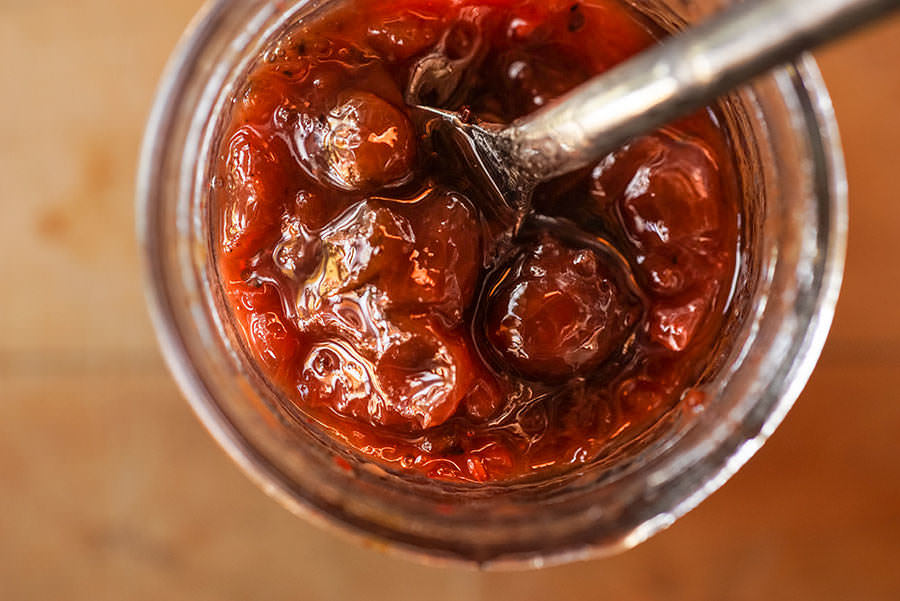 Gooseberries pack a tart punch that is unrivaled in the berry kingdom. Spice Coast Garam Masala, onions, and sugar add different layers of sweetness- you may want to add more sugar if your berries are less ripe. The unusually high pectin content in gooseberry skin makes for a delightful jelly-like texture.
This homemade ketchup recipe is best with duck and (of course) goose, but works nicely with a fatty piece of pork as well.
Ingredients
500 g (about 4 cups) gooseberries
2 white onions, chopped
2 cups water
1 ½ Tbsp Spice Coast Garam Masala, ground
2 cups sugar
2 Tbsp cider vinegar
Method
1

Rinse gooseberries thoroughly and remove stems. Place in a large pot with onions and water.

2

Turn heat to medium high and bring to a boil. Skim the foam off the top, then add the sugar. Skim once more and reduce heat so the gooseberries simmer gently. Add spices.

3

Continue simmering for at least 1 hour, until the gooseberries are cooked through and darken. You may simmer longer for a thicker ketchup.

4

Add vinegar, stir and remove from heat.

5

Place in sterilized glass jars or bottles and store in a cool, dark place.
Inspired by Pure Ketchup: A History of America's National Condiment, with Recipes by Andrew F. Smith