Goulash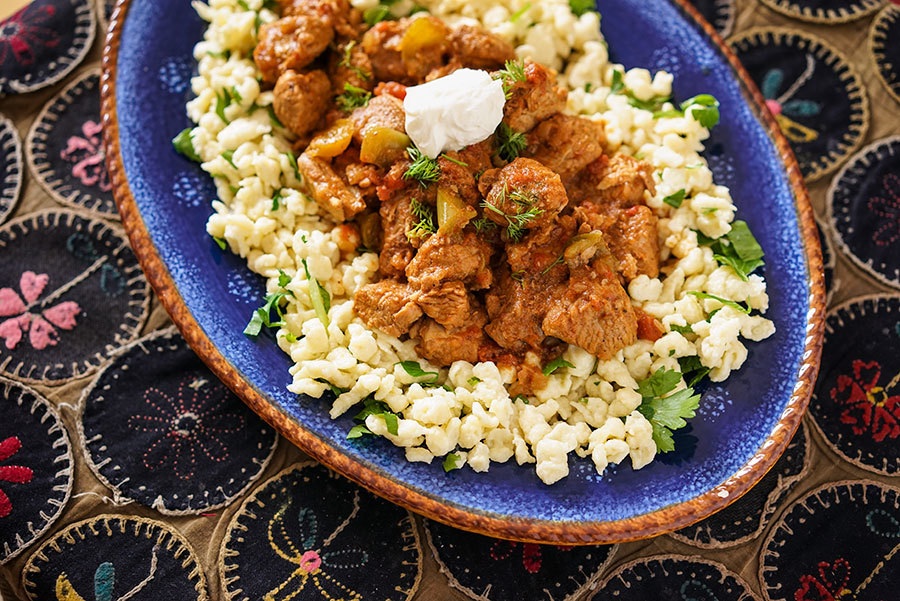 Goulash is a Hungarian meat dish – in which paprika is the star. For an authentic version, we recommend using Sweet Hungarian Paprika.
Ingredients
2 Tbsp vegetable oil or lard
2 onions, finely chopped 
3 Tbsp sweet paprika
1 garlic clove, chopped 
2 lb veal, cut in 1.5-inch cubes
1 tsp caraway, roughly ground
3 cups stock or water 
½ tsp salt 
Black pepper, to taste  
3 medium tomatoes, peeled, de-seeded and cut in cubes 
2 green Bell peppers, diced into 1-inch pieces
1 tsp marjoram
Crème fraîche, to garnish (opt.)
Fresh dill, chopped, to garnish (opt.)
Method
1

Heat a casserole with oil on medium. Cook for 8 to 10 minutes, until onions are lightly golden. 

2

Remove pan from heat and add paprika and garlic. Mix well.

3

Return pan to the heat. Add veal, caraway, stock, salt and pepper. Bring to a boil, reduce heat to medium and cover partially. Cook until meat becomes tender, approximately 1 hour.

4

Add tomatoes, peppers and marjarom to pan. Mix well, cover partially and cook another 30 minutes.  

5

Taste and adjust salt if necessary.

6

Serve garnished with crème fraîche and dill, if desired.