Gozinaki - honey and nut brittle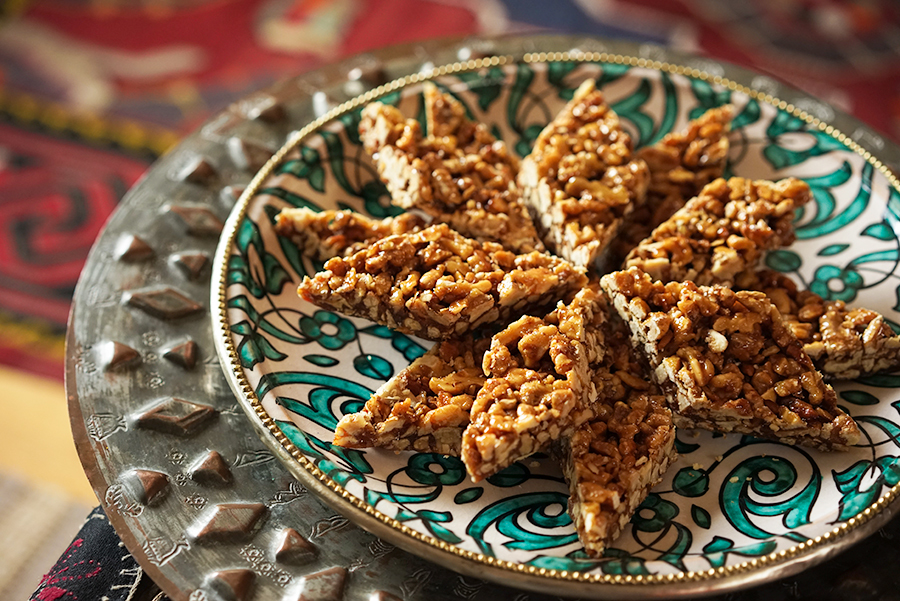 In Georgia, Gozinakis are usually made in celebration of the New Year. There are different recipes, some call for hazelnuts and others, almonds. The best gozinakis are made using honey from the mountains; choose a fragrant, wildflower honey if possible. The crisps will keep for several days in a well-sealed container…if it's well hidden!  
Ingredients
4 cups of walnuts 
1 tsp vegetable oil
1 cup honey
2 Tbsp sugar 
Method
1

Heat the oven to 350 °F.

2

Roughly chop the nuts and place them on a bake sheet. If there is any residual powder left from the nuts, don't place them on the bake sheet as they will burn.


3

Grill in the oven for 5 to 7 minutes, until the nuts become fragrant. Remove from the oven. 

4

 Rub oil on another bake sheet and set aside.

5

Pour the honey and sugar into a large pan on medium heat. Cook, stirring occasionally, until the boiling honey darkens (about 5 minutes).

6

Incorporate the grilled nuts using a wooden spatula. Mix without stopping to coat the nuts and to continue the caramelization for another 4 to 5 minutes.

7

Once the caramel is dark, pour it on to the already oiled bake sheet. With the help of a spatula, create an even, one-inch-thick, rectangular wafer. Be careful: do not touch the caramel with your fingers as it is perilously hot.

8

Let rest for ten minutes then, with a large knife, cut it into squares or diamonds.