Greek Chicken with Orzo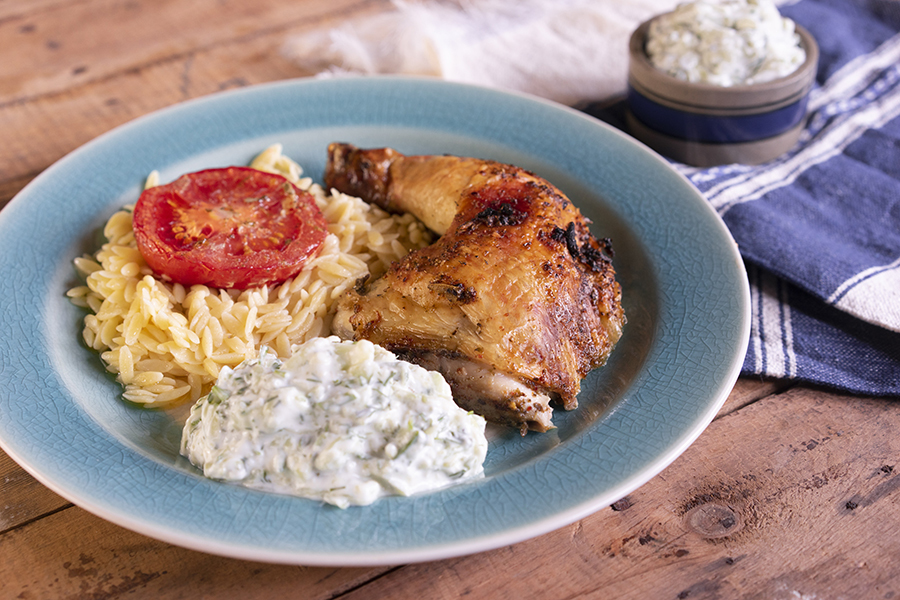 The secret of this Greek family recipe is to marinate the chicken for several hours, or better yet overnight. Use a baking dish that is not too large and which ideally, is roughly the same size as the chicken. This provokes a generous quantity of jus to form, which lends a wonderful flavour to the pasta.
We serve this dish with tzatziki, which makes the pasta incredibly creamy and devilishly flavourful.
Ingredients
1 whole chicken
3 Tbsp Greek isles layover spice blend, ground
1 Tbsp sea salt
4 Tbsp olive oil
4 medium tomatoes
12 oz orzo OR short macaroni
1 cup parsley, chopped
Juice of 1 lemon
Method
1

Cut the chicken in two along the backbone, then flatten by applying pressure to the breast to obtain a chicken crapaudine.

2

Blend the spices and salt together. Rub all over the chicken with olive oil. Let marinate overnight, refrigerated.

3

Heat the oven to 425 °F.

4

Cut the tomatoes into thick slices. Place at the bottom of the roasting pan intended for the chicken. Add the chicken to the pan.

5

Cook the chicken in the oven for 20 minutes then reduce the temperature to 350 °F and continue cooking for another 40 minutes.

6

Double check the chicken and cook more, if necessary.

7

Meanwhile, cook the pasta in a pot of boiling water. Drain once the pasta is al dente. Set aside ½ cup of pasta water and discard the rest. Do not turn off the heat.

8

Remove the chicken from the baking pan and pour all the cooking jus and tomato slices into the pot of leftover boiling water. Add the pasta, parsley, and lemon juice. Mix well and cook for one minute; if necessary, add more water and a dash of olive oil.

9

Place the orzo in the dish, cut the chicken and place the pieces on top.

10

Serve accompanied by tzatziki.