Green bean Sabzi with sesame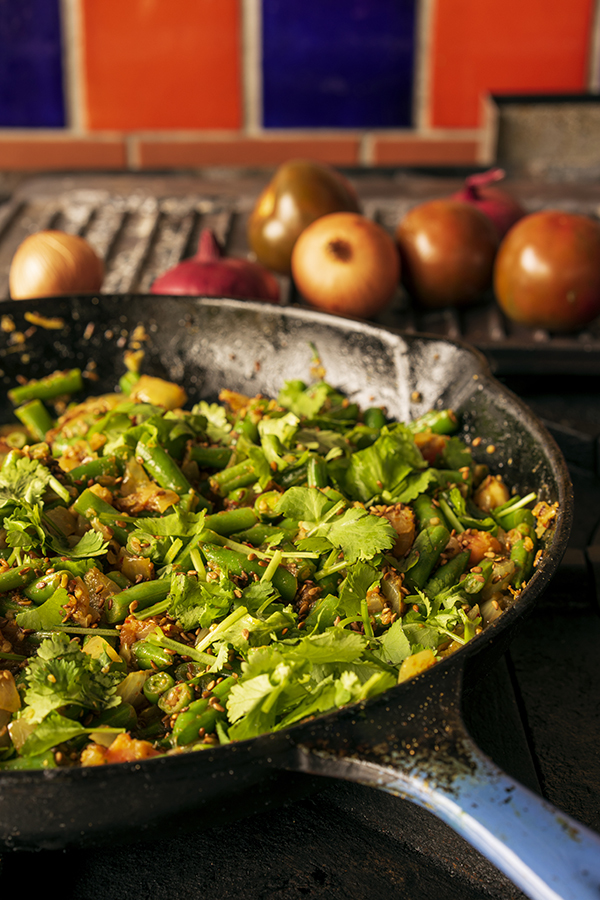 Sabzis are mixed, dried vegetable curries that are popular in Northern India and Pakistan. The vegetables used are often combined and can be different depending on the season. This recipe contains sesame seeds but, grated coconut is also an option – so too is serving the dish as is.
Ingredients
4 cups green beans
¼ cup sesame seeds
4 Tbsp ghee or oil
2 medium onions, chopped
2 Tbsp Vegetable curry masala
3 garlic cloves, chopped
2 medium tomatoes, chopped
Salt and pepper, to taste
½ tsp Garam Masala, ground (opt.)
½ cup fresh coriander, chopped
Method
1

Destem the beans then cut them into 1-inch pieces. Place in a strainer and rinse under running water while stirring for 30 seconds, to assure that they remain humid. Set aside.

2

Put the sesame seeds in a pan and roast on medium heat until they turn golden. Pour onto a plate and let cool for 2-3 minutes. Grind ¾ of the sesame seeds in a mortar or spice grinder. Set aside.

3

On medium heat, add ghee or oil to the pan, followed by the chopped onions. Let simmer until golden (5-8 minutes).

4

Incorporate the unground spices and continue stirring for 1 minute before adding the drained beans. Mix well and cook for 5 – 10 minutes, stirring regularly until the beans begin to soften.

5

Add the chopped garlic and tomatoes, as well as the ground sesame. Salt and pepper to taste. Cook for a few minutes. If the tomatoes do not render enough liquid, add ¼ cup water.

6

Continue cooking until the vegetables are to your taste. The end result should be a dish that is more or less dry, without sauce. Incorporate the Garam Masala (opt.) and fresh coriander. Taste and correct for salt and pepper, if necessary.

7

Serve garnished with remaining, whole sesame seeds that have been set aside.