Green Gazpacho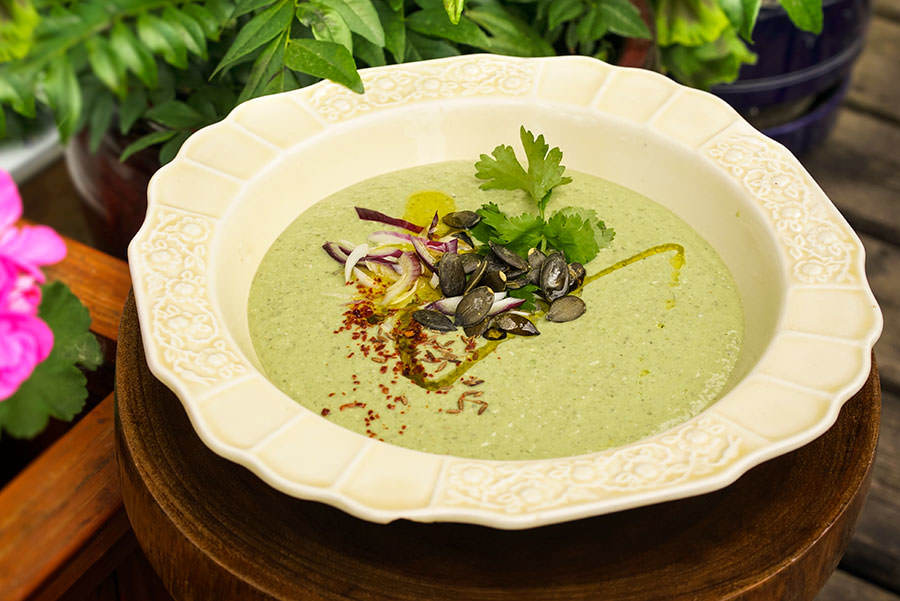 This soup is tart and refreshing! If possible, roast and peel the poblanos so you don't have to run the soup through a sieve to remove the little pieces of pepper skin.
Ingredients
2 cups tomatillos
2 poblanos or 1 green pepper
1 pack scallions
1 barely ripe avocado
2 cloves garlic
½ cup pistachios or pumpkin seeds
2 cups ice cubes
2 tsp cumin
3 Tbsp lime juice
6 Tbsp fruity olive oil
Salt and pepper to taste
Cilantro for garnish
1 tsp Aleppo pepper
2 Tbsp pistachios, chopped
Method
1

Cube tomatillos and poblanos. Slice shallots and set aside 4 Tbsp for garnish.

2

Put the tomatillos, scallions, avocado, garlic, pistachios and ice in a blender. Reduce to a fine, creamy liquid. Add cold water if needed.

3

Meanwhile, toast cumin in a dry pan on medium. Grind half in a mortar and set the other half aside.

4

Add ground cumin, lime juice, 5 Tbsp olive oil, salt and pepper to the blender. Blend well.

5

Strain the soup through a sieve with a spatula if desired.

6

Place soup bowls in freezer for 30 minutes to chill them. Pour the soup in the bowls, decorate with toasted cumin seeds, cilantro, Aleppo pepper, reserved scallions, chopped pistachios and a few drops of olive oil.