Green olive and Pomegranate salad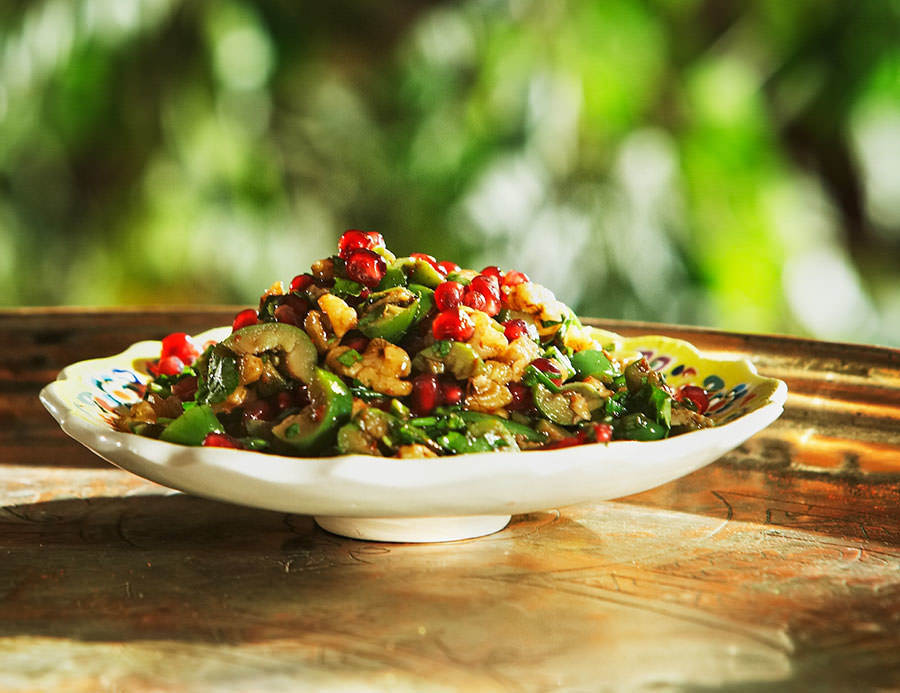 A great salad for the end of Autumn and beginning of winter when pomegranates are in season.This salad doesn't have a lot of spices, but it's so enchanting we couldn't help trying it over and over again at the restaurant in Antioch we discovered it in.
Ingredients
3 very firm green olives
½ cup walnuts
½ cup pomegranate seeds
1 bunch parsley
4 scallions
2 sprigs fresh mint leaves
Juice of ½ lemon
2 Tbsp pomegranate molasses
2 Tbsp Aleppo pepper
Method
1

Soak olives in water for 15 minutes to remove excess salt.

2

Rinse the olives and press them with the palm of your hand to remove the pits.

3

Chop the olives into large pieces.

4

Chop nuts into large pieces.

5

Chop herbs roughly.

6

Mix everything in a bowl. Taste and adjust seasoning if necessary.
An ancient ingredient, pomegranate molasses is made by boiling down fresh pomegranate juice until it is thick enough to keep without preservatives. This fruity, sweet and sour syrup is used in salad dressings, marinades, sauces, or simply as a finishing touch. We like to call it the Middle East's balsamic vinegar. The best brands contain no sugar or other added ingredients, only pomegranate.