Green Pea Masala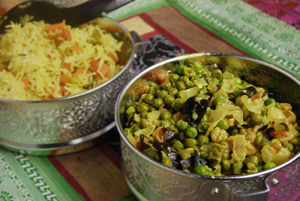 You'll never look at green peas the same way again! The perfect complement for any Indian dish or grilled meat.
Ingredients
2 cups frozen green peas
3 Tbsp coconut oil
1 tsp brown mustard seeds
15 curry leaves
2 onions, chopped
3 cloves garlic, chopped
½ inch fresh ginger, chopped
4 green peppers, sliced
¼ tsp fennel, ground
½ tsp turmeric, ground
2 tsp coriander, ground
1 tomato, chopped
1½ cups coconut milk
Method
1

Heat oil to brown mustard and curry leaves.

2

Add onion, garlic, ginger, and green peppers.

3

Cook five minutes, then add spices. Cook another two minutes.

4

Add cooked, drained peas and salt. Heat through.

5

Add coconut milk. Let simmer half and hour.