Grilled Fish with zaatar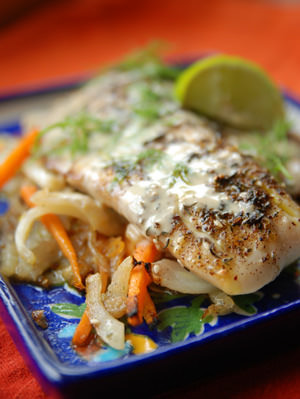 In this recipe, zaatar pairs deliciously with the lemony sourness of sumac, another fine compliment to fish and grilled foods.
The success of this simple recipe depends exclusively on the freshness of the fish. Zaatar is the classic Middle Eastern seasoning for fish, but it does not discriminate; any type of fish will do.
Ingrédients
¼ fennel bulb, slivered
1 carrot, in juliennes
1 large onion, slivered
½ tsp vegetable spices, ground
4 Tbsp olive oil
Salt and pepper
4 fish filets
3 tbsp zaatar
Olive oil or well mixed tahini
Lemon
Method
1

Turn the oven on broil.

2

In a pan, heat the olive oil. Add fennel, carrot, onion and vegetable spices. Sauté until the vegetables are tender and wilted. Salt and pepper to taste.

3

On a bake sheet, spread the vegetables into four portions, equal in size to the fish filets.

4

Place the fish filets on the vegetables. Add a generous drizzle of oil on each filet. Season with zaatar.

5

Broil until the fish is cooked.

6

Remove from the oven. Add a splash of olive oil or tahini.

7

Serve immediately with lemon wedges.