Grilled mackerel filets and mustard, beet salad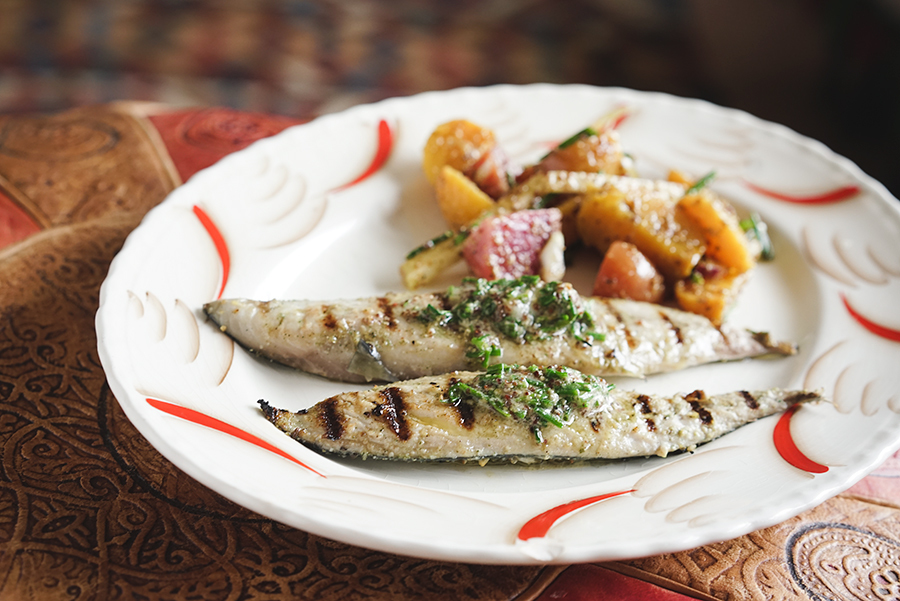 A great twist on the classic maquereaux à la moutarde recipe, served with a hearty and fresh salad. 
Chive butter
¼ cup un-salted butter, room temperature
3 Tbsp old-fashioned mustard 
1 bouquet chives, chopped 
½ tsp Staff Spice Blend for Fish, ground  
Beet salad
3 Tbsp chives, chopped
2 Tbsp Sherry vinegar 
Salt and pepper, to taste 
1 pinch Staff Spice Blend for Fish, ground  
2 Tbsp old-fashioned mustard 
4 Tbsp olive oil  
2 cups cooked beets, quartered
½ apple, in sticks
4 Tbsp onions, slivered 
Ingredients
Chive butter
1

Place the butter in a bowl and beat with a fork. Incorporate the mustard, chives and spices. Set aside. 
Beet Salad
1

Place the chives, vinegar, salt, pepper, spices and mustard in a bowl. Mix well using a fork, then stream in the oil mixing continuously.

2

Add the beets, apple and onions to the vinaigrette. Mix well. 
Method
1

Rinse the filets in cold water, sponge dry with a paper towel. Place on a plate and sprinkle on the salt and spices.  

2

Heat the grill on medium. Brush some oil on the fish. 

3

Grill on the skin side for 3 minutes, turn over and grill 1 more minute.

4

Put on plates, garnished with chive butter. Serve accompanied by the beet salad.