Grilled Peach, Chicken and Barley Salad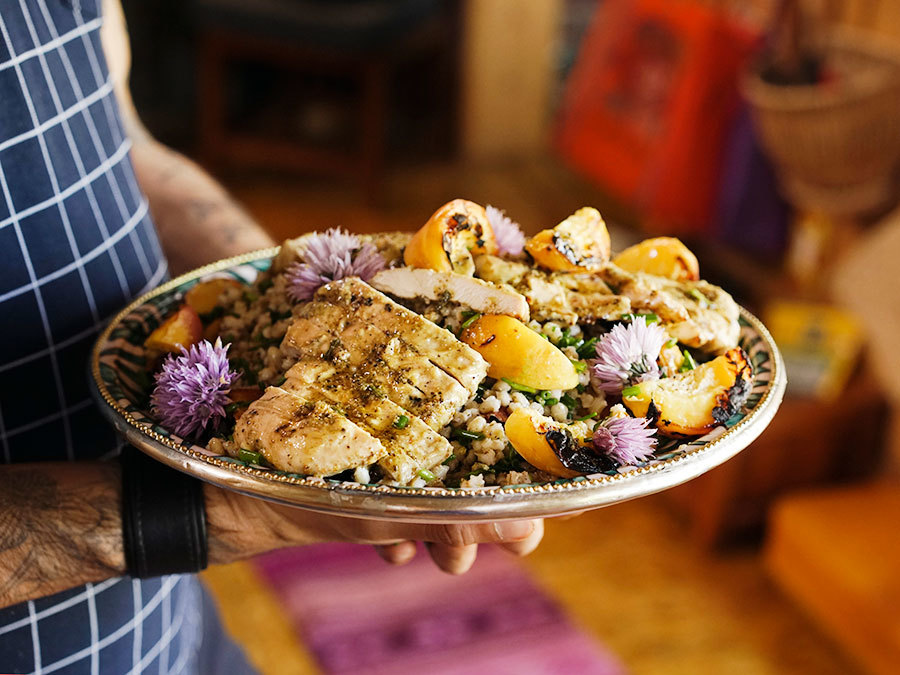 A delicious, fresh and unusual salad! Cook the barley in advance for 1 or 2 hours, ideally, do not refrigerate so it doesn't become tough. 
Ingredients
½ cup pearl barley
2 de-boned chicken breasts 
¼ cup cider vinegar 
4 Tbsp Maple Vinaigrette Seasoning, ground
Salt, to taste 
½ cup sunflower oil
5 firm, ripe peaches
4 Tbsp Dijon mustard 
1 bunch of chives, chopped 
Method
1

Place barley in a pot with 6 cups water. Bring to a boil and let simmer for 45 minutes until the barley is cooked. Pour into a colander, rinse under cold water and drain.

2

Meanwhile, cut each chicken breast into two cutlets. Transfer to a bowl.

3

Mix vinegar, spices and salt in another bowl. Incorporate oil using a fork. Pour a quarter of vinaigrette on the chicken mix well and let rest refrigerated until the barley is cooked.

4

Cut peaches in two and remove the pits.

5

Heat the grill.

6

Place the chicken on the grill and set aside the marinade. Incorporate the mustard into the remaining marinade.

7

Cook chicken for 4 to 5 minutes. Brush remaining marinade on both sides and continue cooking until the chicken is thoroughly cooked and well grilled. Set aside.

8

Grill the peach halves evenly, while the chicken is cooking.

9

Place the barley in a salad bowl. Add chives and remaining vinaigrette. Mix well.

10

Cut the grilled peaches into quarters. Incorporate the barley. Cut the chicken into strips. Place on the salad and serve.