Grilled Peri-Peri Sardines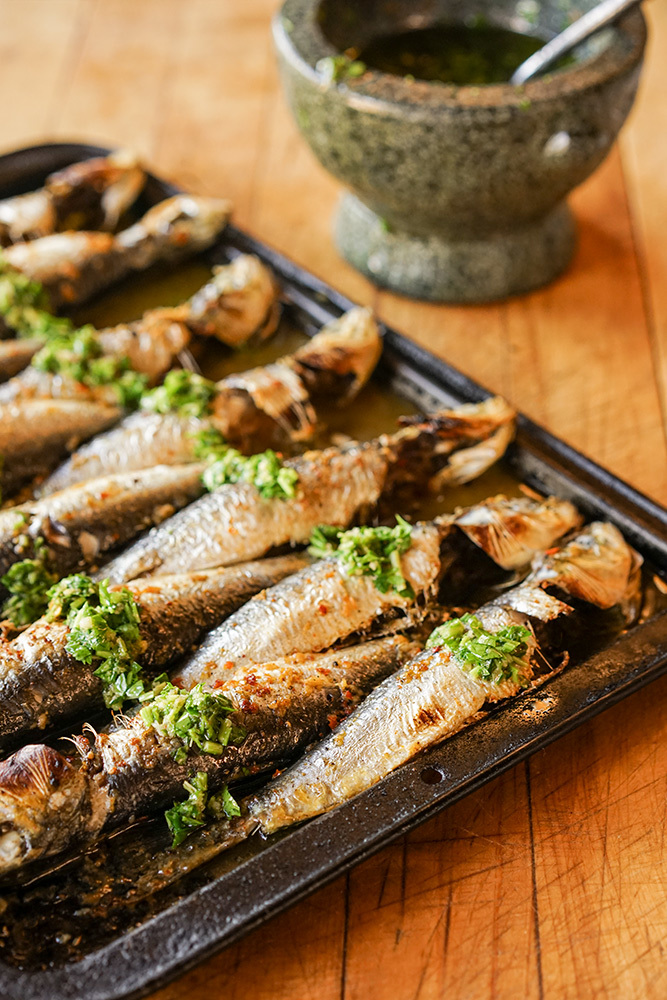 A sublimely affordable recipe. Cleaning sardines might be a deterrent to some, yet it's a relatively simple task; sardine scales are easily removed using just your fingertips. After a few minutes on the grill, the skin separates easily from the bones.
Ingredients
1 lb large fresh or thawed sardines
6 garlic cloves, chopped
2 Tbsp peri-peri spices, ground
1 tsp salt
¼ cup red wine vinegar
¼ cup olive oil
Green Peri-peri Sauce
2 tsp peri-peri spices
3 garlic cloves
1 tsp salt
1 cup parsley, chopped
¼ cup red wine vinegar
½ cup fruity olive oil
Method
1

To prepare the green sauce, grind the spices in a mortar. Crush the garlic and salt to make a fine purée.





2

Roughly pound the chopped parsely and incorporate the vinegar and olive oil. Alternatively, place the ground spices and the remaining ingredients in a blender to achieve a creamy sauce. Set aside.





3

Place a colander in the sink then rub the sardines under running water to remove the scales and the innards. Drain on a paper towel.





4

Put all remaining ingredients in a large bowl and mix. Roll sardines in the marinade, making sure that the insides are also seasoned.





5

Heat a grill plate or an oven grill while the sardines marinate.





6

When the grill becomes hot, grill the sardines for 3 to 4 minutes on each side. Serve with the green sauce.