Guillaume's Spicy Hamburgers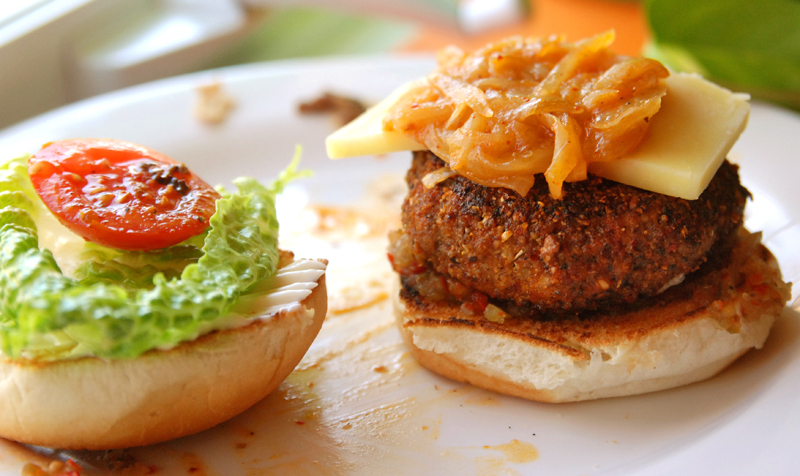 Succulent and well-seasoned hamburgers imagined by our employee, Guillaume. Don't hesitate to use different spices on your meats, such as Mexican Rub, BBQ blend or Tex-Mex blend.
Ingredients
Butter
Olive oil
4 onions
1 cup red or white wine
8 hamburger buns
1 kg. ground beef patties, thin
2 Tbps Ethiopian Berbéré blend, ground
3 Tbps Steak Rub
8 slices emmental or gruyere or cheddar
Garnishes
4 avocadoes
Lemon juice
Pasilla de Oaxaca, ground, to taste
Salt, to taste
Lettuce
Tomatoes, sliced
Ketchup
Mayonnaise
Method
1

In a skillet, heat butter and olive oil. Add thinly sliced onions and cook for 5 minutes.

2

Add wine and reduce heat to low. Caramelize the onions. Set aside.

3

In a bowl, mash the avocados. Add the lemon juice, pasilla de Oaxaca and some salt. Mix and set aside.

4

Mix the Ethiopian Berbere spices into the meat by hand. Prepare 8 patties, thin and large. (They will thicken while cooking.)

5

Coat the patties with steak rub.

6

On a BBQ or stovetop, sear the hamburger patties on medium heat in olive oil and butter (4 min. each side). Place cheese slices on each pattie during the final minute.

7

Grill the hamburger buns.

8

Dress your burger to your heart's content.