Guinea hen with chanterelles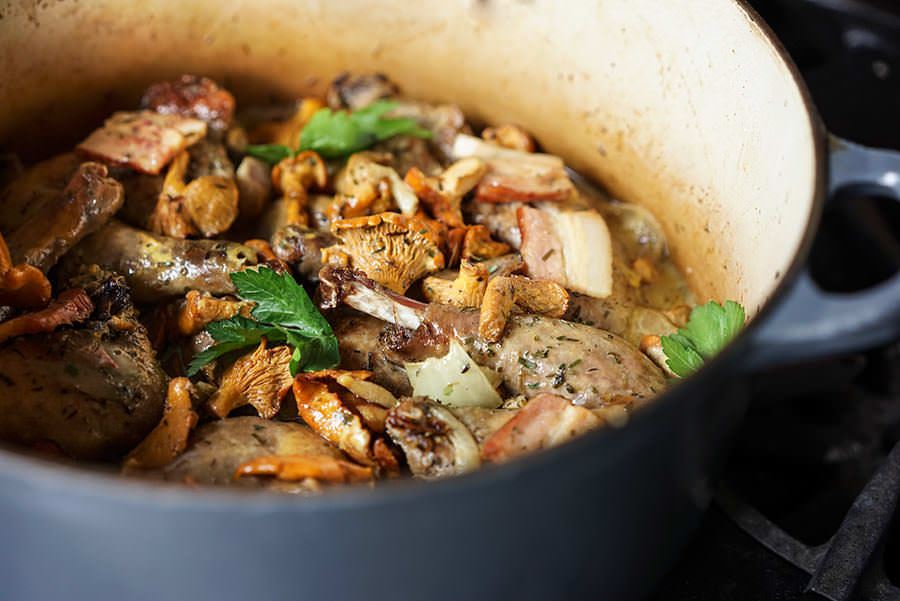 Guinea Hen with Chanterelles can be made with all kinds of mushrooms, fresh or rehydrated. It's also great with chicken.
Ingredients
1 Guinea hen, about 2 ½ lbs
Salt to taste
1 tsp black pepper, ground
¼ lb bacon
3 Tbsp coconut oil or clarified butter
4 shallots
1 glass red or white wine
1 cup chanterelles or other mushroom
1 Tbsp red wine vinegar
4 Tbsp Dijon mustard
½ cup parsley, chopped
Method
1

Rinse Guinea hen and dry with a paper towel. Salt to taste and season with pepper and thyme.

2

Chop half the bacon and place in a cast-iron enamel pot with coconut oil and shallots. Sweat for around 5 minutes.

3

Place the Guinea hen in the pot and cook until all sides are golden, about 2-3 minutes. Add wine and place remaining bacon slices on top of the Guinea hen.

4

Bring to a boil. Cover and simmer for 20 minutes. Add mushrooms and vinegar. Continue cooking on very low heat for 30 minutes. Alternatively, you can cook it, covered, in an oven set to 325 °F.

5

Ensure the hen is cooked. Add a little water if the sauce is too reduced. Remove the poultry and add mustard and chopped parsley to the pot, stirring to incorporate them into the cooking juices. Remove pot from heat and carve the Guinea hen into pieces. Return it to the sauce. Let stand 15 minutes before serving. Garnish with parsley.