Guinea hen with pears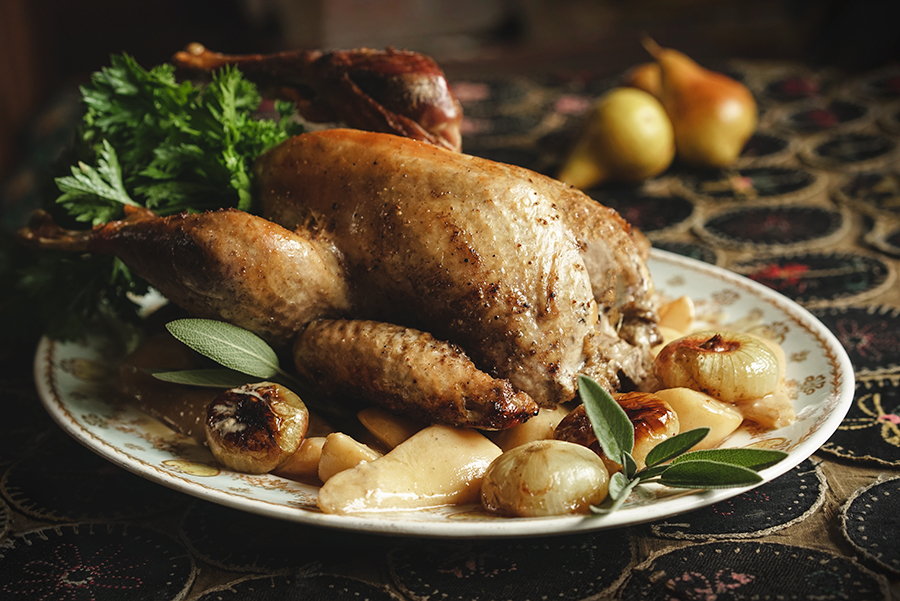 A dish that's fit for a Queen (as well as her subjects!), delicately seasoned with a bouquet of warmly fragrant spices. If you don't have Poire William, it can easily be replaced by Calvados, Cognac or Brandy.  
Ingredients
1 Guinea hen
1 Tbsp French Four Spice blend 
1 Tbsp salt 
4 Tbsp olive oil 
4 Tbsp un-salted butter 
1 cup small onions, peeled   
4 medium pears, not too ripe 
½ cup white wine OR cider 
1 Tbsp lemon juice
1 cup creme fraiche
4 Tbsp un-salted butter, cold
3 oz Poire William (opt.)
Method
1

Heat the oven to 375 °F. Grind the spices and salt. Rub the Guinea hen with the blend.

2

Place a casserole on medium. Heat the oil and butter then add the Guinea hen once the butter begins to foam. Brown on all sides.

3

Place the small onions around the hen and put in the oven. Cook for 30 minutes.

4

Meanwhile, peel, cut and core the pears. Place in a bowl with the wine and lemon juice.  

5

After 30 minutes of cooking, sprinkle the hen with its rendered fat and cover. Continue cooking for another 30 minutes.

6

Turn off the oven and remove the casserole. Place the hen on a baking sheet and return it to the oven to finish cooking slowly and to keep it warm.

7

Place the casserole onw lo heat and add the pears and wine. Let simmer for a few minutes to tenderize the pears and deglaze.

8

Delicately incorporate the creme fraiche. Cut the cold butter into cubes and mix carefully with a wooden spoon, working the butter into the sauce without damaging the pears and the onions.

9

Add the Poire William, if desired. Serve the Guinea hen with the sauce.