Gulai Kapau - Padang Vegetable Curry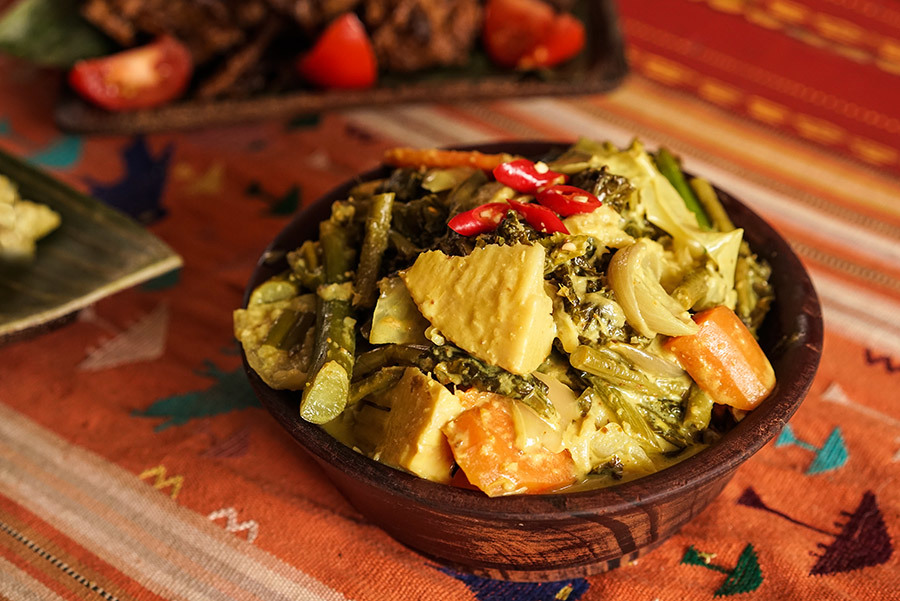 Sumatra's Padang cuisine takes advantage of numerous fresh spices like turmeric, lemongrass and galanga. Most fresh spices can be found in Asian markets around the city, but, if you don't have any on hand, you can substitute dry spices. You can just grind the dried lemongrass and turmeric in a mortar, but it's best to rehydrate the galanga first.
Ingredients
¼ cup shallots
1 Tbsp fresh galanga, chopped
1 Tbsp fresh lemongrass, chopped
1 Tbsp fresh ginger, chopped
½ tsp fresh turmeric, chopped
2 Tbsp Thai chilies
4 kemiri nuts or macadamia nuts
4 Tbsp coconut oil
3 cups coconut milk
2 Tbsp tamarind paste
1 turmeric leaves (opt.)
Salt to taste
1 cup long beans or green beans, diced
1 chayote, diced
2 cups cabbage, chopped
6 shallots, quartered
1 cup bamboo shoots, chopped
1 Bunch scallions, in 1-inch sections
Method
1

Place shallots, spices, kemiri nuts and 4 Tbsp coconut milk in a food processor. Purée.

2

Heat a large pot or wok on medium. Add oil and sauté spice paste for 5 minutes, stirring often.

3

Add 3 remaining cups coconut milk, turmeric leaf, tamarind and salt. Bring to a boil and simmer for 5-10 minutes.

4

Add vegetables and cook gently for 15-20 minutes, stirring on occasion.