Hare Braised in Red Wine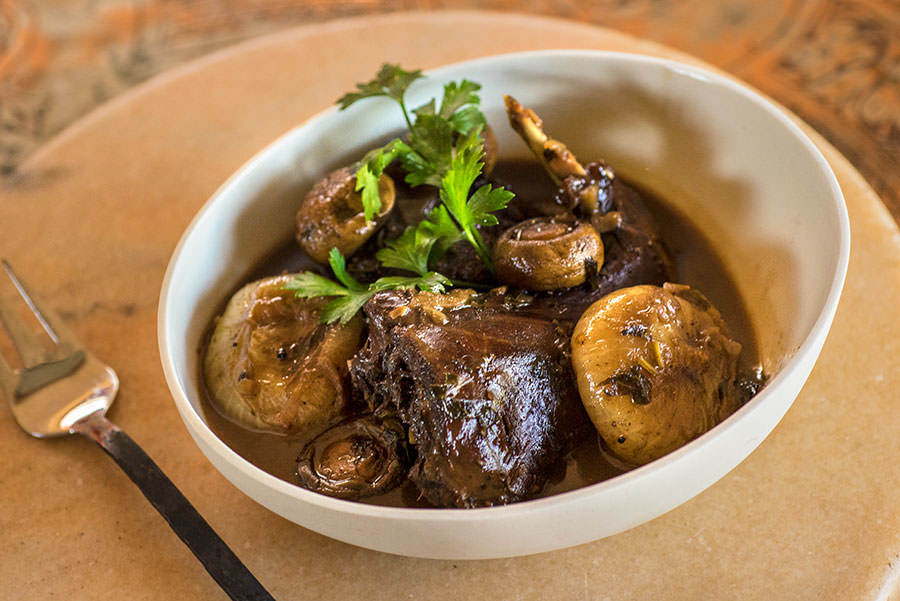 The spice blend used in this recipe works for all mammalian game as well as many cooking techniques: roasting, soup, terrine… don't hesitate to make this dish a day in advance, it's even better when its reheated.
Ingredients
1 hare
Flour for the meat
1 tsp small game spices, ground
Salt, to taste
Pepper, to taste
8 Tbsp clarified butter or duck fat
2 cups chicken or poultry stock
2 cups small onions, peeled
2 cups mushrooms
2 Tbsp balsamic vinegar
Minced parsley for garnish
Marinade
2 cups red wine
1 onion, chopped
1 carrot, chopped
1 stalk celery, chopped
1 Tbsp small game spices
2 Tbsp wine vinegar
4 cloves garlic
Method
1

Wash the rabbit well and cut into 8 pieces.

2

Place the hare and all the marinade ingredients in a bowl. Cover and marinate for 12 to 48 hours.

3

Drain the meat and pat dry with a paper towel. Season with spices, salt and papper. Roll each piece in flour.

4

Heat a heavy pot on medium with half the clarified butter and brown the hare.

5

Meanwhile, put all the marinade ingredients in a large pot. Add the stock and bring to a boil. Skim the scum off the surface of the liquid. Let simmer for 10 to 15 minutes.

6

Drain the marinade through a colander and pour into the pot with the meat. Cover and simmer until the meat is well tender (1 to 2 hours).

7

In another pan, heat the remaining butter and add the small onions and mushrooms.

8

When the meat is tender, add the onions and mushrooms. Add the balsamic vinegar. Let simmer lightly for another 30 minutes. Let rest at least 30 minutes before serving.