1642 Herb Chicken Legs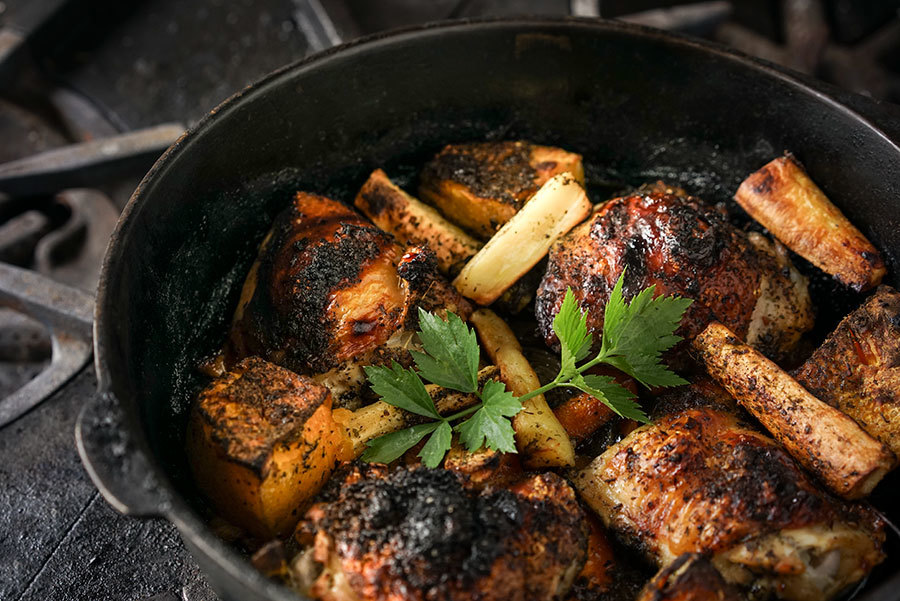 Recipes like this are quite convenient: put everything on the same roasting dish and make a salad (or have a glass of wine) while it all cooks in the oven.  
Ingredients
4 Tbsp 1642 Soup Blend
1 Tbsp salt
Black pepper, to taste
2 medium parsnips, cut into matchsticks
3 medium carrots, cut into matchsticks
1 cup squash, cut into 1-inch cubes
8 whole chicken legs
1 medium onions
4 Tbsp butter
Method
1

Preheat oven to 375° F.

2

Grind spices and combine with salt in a large bowl.

3

Place chicken and cut vegetables in the bowl and season with spices.

4

Slice onion and place on the bottom of a roasting dish. Place vegetables then chicken, skin side-up, on the onions. Place pieces of butter on top. Add ½ cup water.

5

Roast for 1 hour. The chicken should be golden brown and the vegetables very tender, almost dry.