Hawaiian Poke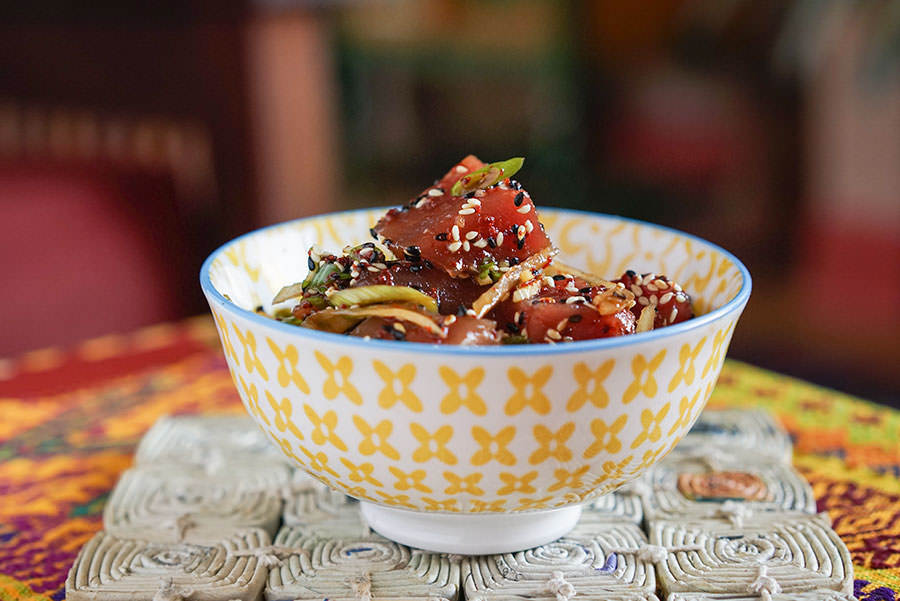 The ingredients found in Hawaiian Poke are also characteristic of those found in Japanese cuisine. It's important to use fresh fish for this recipe.
Ingredients
2 Tbsp dry wakame
1 lb tuna filet or fresh fish
2 Tbsp ginger, chopped fine
½ cup mild onion, sliced fine
4 Tbsp coconut aminos or 2 Tbsp tamari
1 tsp Teja pepper flakes or fresh hot chile, ground, to taste
2 Tbsp sesame oil
Salt to taste
3 scallions, sliced
3 Tbsp toasted sesame
Method
1

Place wakame in a bowl and cover with ½ cup hot water. Set aside.

2

Put plates in the fridge for 20 minutes. Rinse fish well and pat dry. Cut fish into 1-inch cubes and place in a bowl.

3

Drain wakame and add to the cubed fish with remaining ingredients. Stir gently. Divide among the plates and serve.