Holiday Grapefruit Salad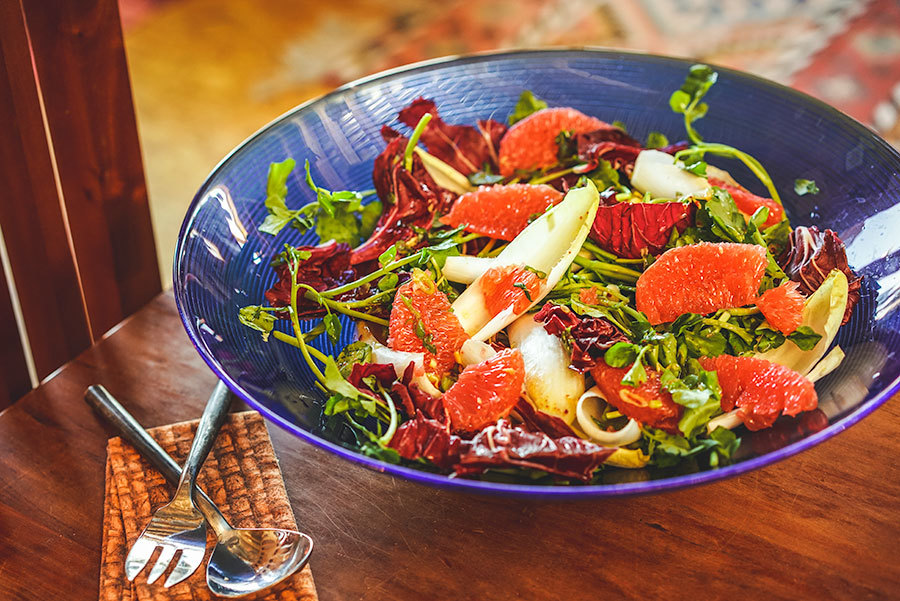 We initially imagined this salad as an accompaniment to a traditionally, generous Holiday feast. The acidity of the grapefruit and the bitterness of the lettuce are a welcome combination to the richness of a main course. This salad is however delicious throughout the year!
Ingredients
2 endives
1 bunch of watercress
½ radicchio
2 pink grapefruits
2 green onions, slivered
1 tsp fresh ginger, chopped fine
2 Tbsp fragrant honey
2 tsp Korean pepper
3 Tbsp rice vinegar
6 Tbsp olive oil
Method
1

Wash vegetables well. Separate endive leaves, then remove large stems and tear the radicchio. Place everything into a large salad bowl.

2

Peel grapefruit and remove the flesh of the sections using a sharp knife. Place grapefruit sections on salad.

3

Squeeze the heart of the grapefruit hard between your hands, over another bowl to extract remaining juice.

4

Incorporate remaining ingredients into grapefruit juice and mix well. Pour the vinaigrette on the salad just before serving and mix delicately.