Homemade Country-Style Pâté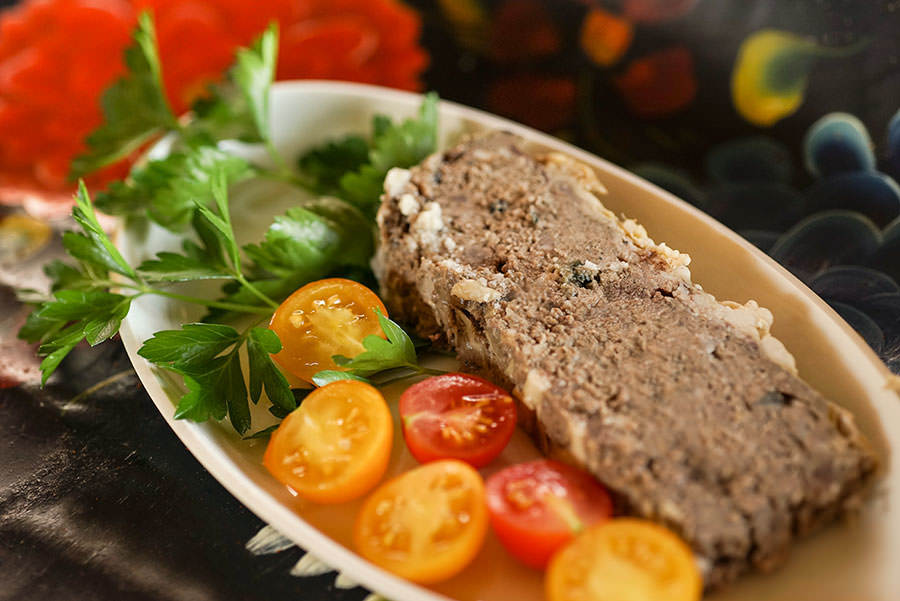 This country-style terrine can be made with whatever meat you have available. We love this recipe with venison, but it can also be made with elk, duck, chicken, or rabbit.
Ingredients
1 lb fatty pork
---
1 lb venison
---
1 lb chicken liver or pork liver
---
½ cup red wine
---
¼ cup port or brandy
---
8 cloves garlic
---
3 shallots
---
1 Tbsp Thyme
---
2 Tbsp Stew Spices, ground*
---
½ lb salt pork
---
1 Tbsp salt
---
½ lb sliced bacon or ¼ lb caul fat
Method
1

Cut pork and venison into 1-inch cubes. Place in a bowl with liver, wine, pork, garlic, shallots, thyme and ground spices.

2

Stir well, cover and chill for 24 hours.

3

The following day, cube salt pork and place in a food processor with liver, garlic and shallots. Purée and transfer to a large bowl.

4

Add chopped meats to the food processor and purée into a rough paste. Add the puréed liver, the add ¼ cup of the marinade and mix well.

5

Heat a small pan on medium and cook a small amount of the meat. Check the seasoning and adjust if necessary.

6

Line a terrine or oven-proof mold with the slices of bacon or caul fat. Place the liver mixture in the terrine and spread it evenly. Cover it with the excess bacon slices or caul fat pieces.

7

Place a cover on the terrine and let rest in the fridge at least one hour, up to 24.

8

Remove terrine from the fridge an hour before cooking. Preheat oven to 350°F. Place the covered mold in a deep plate and add 1 inch of warm water.

9

Roast for 1 ½ hours. Remove the mold from the plate and let cool on the counter for 1 hour. Place a weight on the pâté (an upside-down plate or a can of vegetables, for example). Refrigerate 24 hours before serving.
 * You can also replace the Stew Spices with 1 Tbsp pepper, 2 tsp nutmeg, 1 tsp allspice, and 1 tsp savory.