Homemade Maple Spice Granola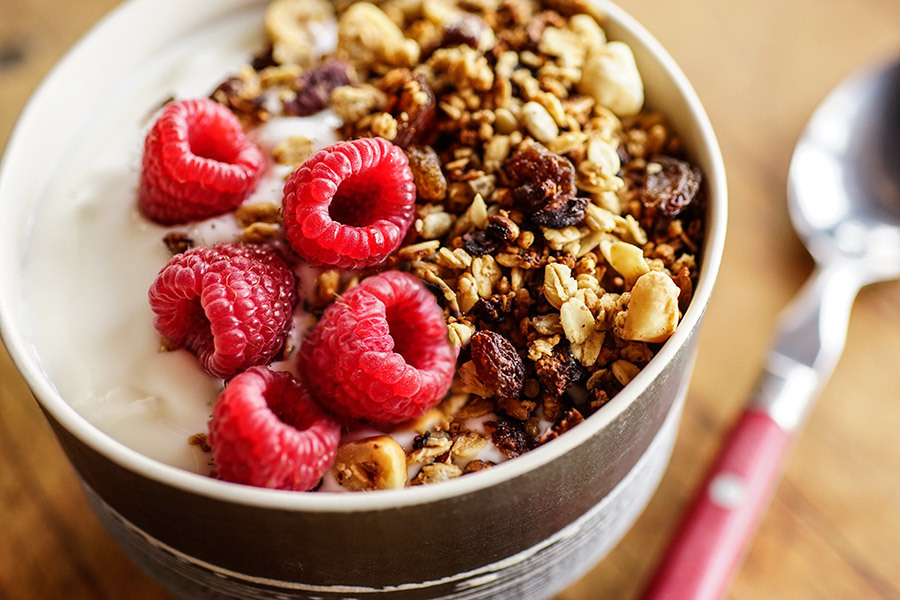 It's no secret that store-bought granolas often contain products and chemicals that are not exactly "healthy." Homemade granola is easy to make and can stay in your pantry for weeks in a sealed container.
Another advantage of making your own granola is that you can try new flavors by switching up the nuts, fruit, or spices. All you need to remember is to keep the quantities the same so you end up with a tasty, crunchy blend. We advise against using instant oats for this recipe.

Ingredients
3 cups oats
1½ cups puffed quinoa
¾ cup unsweetened grated coconut
½ cup sunflower seeds
½ cup pecan pieces
½ cup hazelnuts, halved
¼ tsp salt
2 tsp mulling spices or pumpkin pie spices, ground
¼ cup almond butter
¼ cup vegetable oil
½ cup maple syrup
1 Tbsp vanilla extract
½ cup raisins
6 dates, chopped
Method
1

Preheat oven 300°F.

2

In a large bowl, mix oatmeal, puffed quinoa, nuts, salt, and spices.

3

In another bowl, whisk almond butter, oil, maple syrup and vanilla extract.

4

Pour the liquid on the dry ingredients and stir until consistent.

5

Spread on two baking trays lined with parchment paper and bake for 20-30 minutes, until golden brown. Stir during cooking if necessary.

6

Let cool, add fruit and stir.