Honey and Apple Galette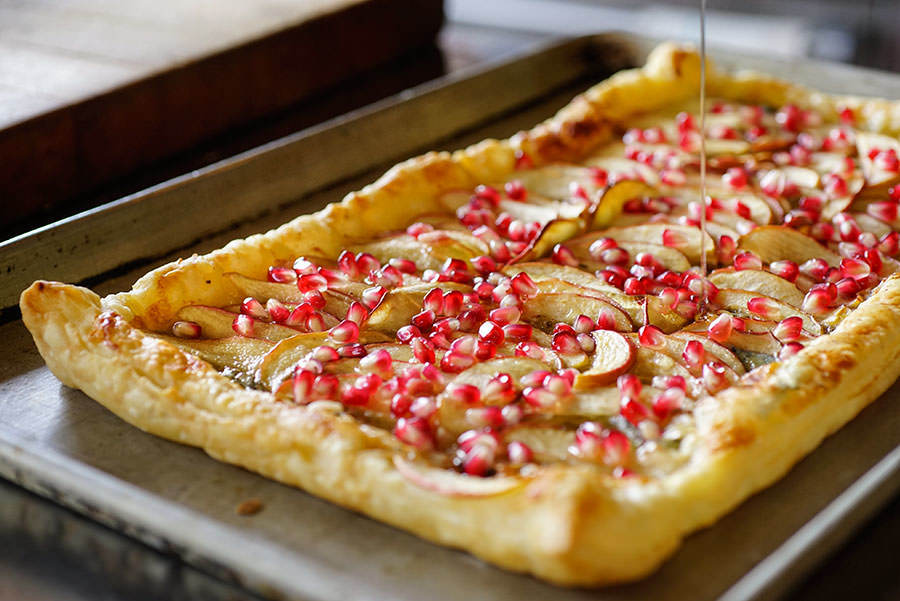 This magnificent tart can be served as an appetizer, side, or dessert.
Ingredients
1 pie crust (store bought or homemade) or 400g puff pastry
½ cup brie, sliced thin
1 Tbsp granulated brown sugar
3 Tbsp sliced almonds
½ Tbsp cinnamon, ground
2 apples (Royal Gala or Honeycrisp), seeded and sliced thin
4 Tbsp unsalted butter, cut into small cubes
4 Tbsp honey
Pomegranate seeds (opt.)
Method
1

Preheat oven to 375°F.

2

Place the pie dough on a large baking tray. Place the brie slices on the pie dough in a layer, then sprinkle on the sugar, almonds and cinnamon.

3

Place a layer of sliced apples on top, then distribute a few small pieces of butter throughout. Pour the honey over the apples and butter.

4

Place in the oven and bake for around 30 minutes.

5

Garnish with pomegranate seeds when serving.