Honey and Fruit Christmas Cake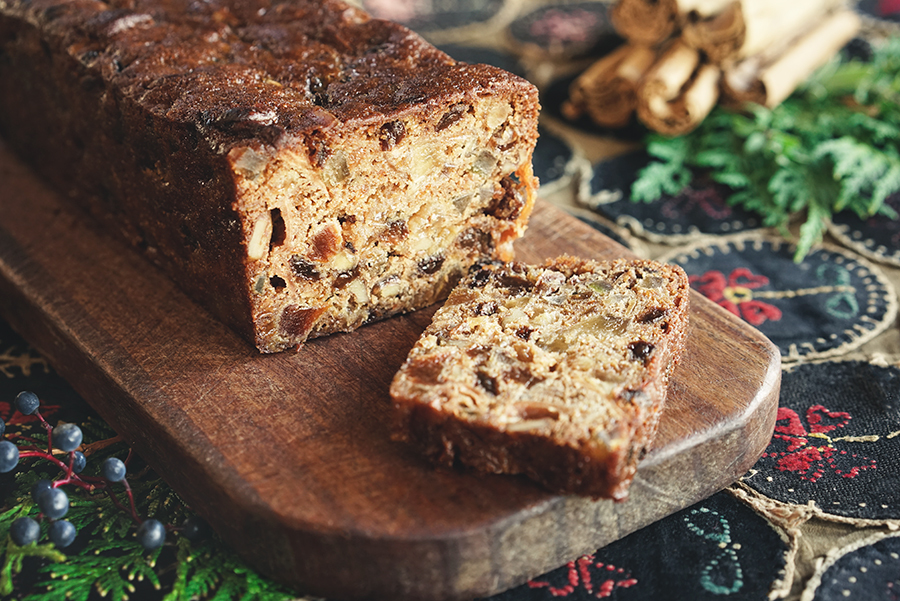 This version of a traditional Fruit Cake to which we add pears and dried apples is simply divine! The cake is truly delicious as is, but we believe it can be greatly improved upon if prepared several weeks in advance, then brushed with alcohol once a week. When refrigerated, it can keep for up to one year. 
If you use a Bundt pan with a removable bottom, we suggest buttering it generously as candied fruits tend to stick, which makes unmolding difficult. Feel free to use your personal choice of alcohol such as rum or even another orange liqueur. If you don't find candied citron peels, replace them with another candied citrus.

Ingredients
⅓ cup Grand Marnier
1½ cup sultanas raisins
2 cups golden raisins
1 cup pineapple, candied or dried pieces
1 cup dried apricots, cut in pieces 
1 cup dried pears, cut in pieces 
1 cup dried apples, cut in pieces 
½ cup candied citrus peel
½ cup candied citron peel  
1 cup butter, room temperature
1 cup brown sugar 
6 eggs
½ cup honey 
1½ cup flour 
1 tsp baking soda 
3 tps French Gingerbread spice blend, ground 
1 pinch salt 
1 cup walnuts, broken  
Method
1

Marinate the fruits in rum overnight. Set aside.

2

Preheat the oven to 300 °F.

3

Beat the butter and brown sugar together in a large bowl.

4

Continue beating, then progressively incorporate the eggs and honey into the blend.  

5

Add the dry blend to the moist ingredients and mix on low speed until a uniform dough is obtained.

6

Incorporate the nuts and the fruits into the dough (along with any remaining alcohol) and mix well.  

7

Pour the dough into two Bundt pan molds or two, 12-inch X 4-inch rectangular, parchment-lined molds, filled to ¾ capacity.

8

Place a pan of boiling water on the bottom rack of the oven to maintain a level of humidity.

9

Place the cakes in the oven on the middle rack and bake for 1 hour.

10

Remove the pan of boiling water and continue baking for another 30 minutes. The cakes are ready once an inserted toothpick comes out clean.

11

Remove from the oven and let cool for half an hour.

12

Unmold delicately and let cool completely.

13

Brush on Grand Marnier. Wrap first in parchment paper, then in tin foil. Place in the refrigerator.

14

Brush with Grand Marnier once a week for at least one month.