Honey, Dried Fruit and Mahleb Upside Down Cake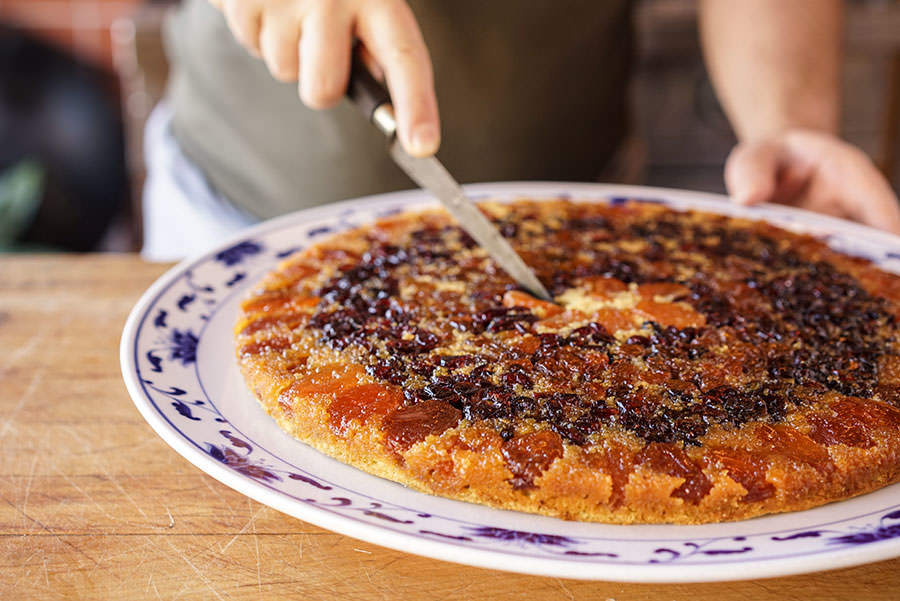 Using a good quality honey goes a long way in making this recipe work. Feel free to switch up the fruit: dried figs and cherries are great too.
Ingredients
½ cup honey
1½ cup dried apricots
1 cup dried cranberries
1 cup golden raisins
Gâteau
1½ Tbsp Mahlab
2 Tbsp sugar
½ cup pistachios or blanched almonds
¼ cup sugar
½ cup butter, at room temperature
3 eggs
1 cup flour
1 tsp baking powder
1 pinch salt
⅓ cup milk
Method
1

Preheat oven to 375°F.

2

Warm honey if it's not runny enough. Pour it into a 9-inch round mold (or an 8X8 inch square mold).

3

Place dried fruit on top of the honey and set aside.

4

Grind mahleb and 2 Tbsp sugar into a fine powder with a mortar and pestle.

5

Transfer to a food processor. Add pistachios and remaining sugar. Reduce to a powder by pulsing for around 2 minutes.

6

Add butter and cream until smooth. Incorporate eggs one at time, pausing to scrape the food processor with a spatula.

7

Sift flour and mix with baking powder and salt in a bowl. Pour the butter mixture into the bowl and incorporate, gently, with a spatula, while gradually adding the milk.


8

Pour the batter on the dried fruit and spread it gently, without disturbing the layer of fruit. Tap the mold 2-3 times on the counter to remove any air bubbles in the batter.

9

Bake for around 30 minutes, until the cake is golden and the honey is bubbling on the sides.


10

Let rest 30 minutes before overturning on a plate. Place the mold on a heated burner on the stove to remove the cake more easily, if needed.