Hong Xao Rou - Red-Cooked Pork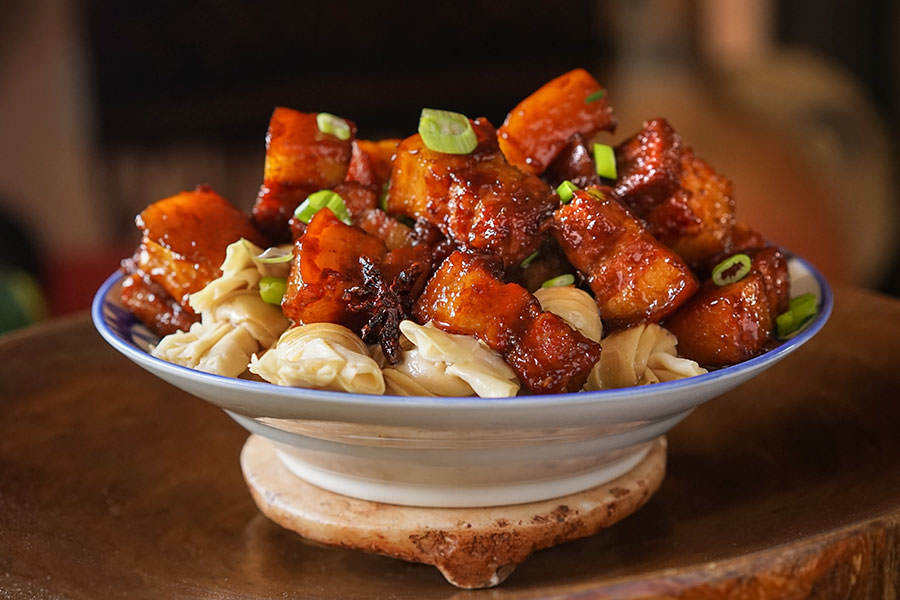 This sweet, spicy sauced pork was famously Chairman Mao's favourite dish. The unique melting of sugar into oil makes for an exceptionally smooth sauce that seems to melt in the mouth. Feel free to play around with the spices, the only spice it truly requires is star anise.
Ingredients
1 kg pork belly, skin on
3 Tbsp Oil
2 ½ Tbsp Sugar
3-4 thin slices ginger, skin on
1 ½ inch piece cassia
1 slice aged mandarin peel (opt.)
3-4 red chilies (opt.)
2 Tbsp Shaoxing wine or sherry
1 cup stock or water
1 tsp dark soy sauce plus a few drops
1 Tbsp light soy sauce
1 Tbsp tapioca starch or 1 ½ Tbsp. corn starch
Sliced green onions for garnish
Method
1

2

Bring a medium pot of water to boil. Add a few drops of dark soy sauce to colour the water.

3

Place the pork belly in the water and simmer for about 20 minutes until the pork is cooked through. Skim any scum off the top before draining. Remove from heat and cool before cutting.

4

Cut the pork into approximately 1-inch cubes, ensuring each piece has meat, fat, and skin.

5

Heat a wok on medium heat and add the oil. Pour in the sugar and melt it slowly, stirring as little as possible.

6

When the sugar is evenly melted, carefully add the pork pieces and stir until they are evenly coated.

7

Add the ginger and spices and stir. Add the cooking wine, stir, then add the stock.

8

Reduce heat to low and simmer for 30-40 minutes. Add water if necessary to keep pork from sticking. When sauce is thick and reduced to your liking, add the soy sauces and stir. Add a little more dark soy sauce if you want a redder sauce.

9

Take a few spoonfuls of the sauce and pour into a small bowl. Stir the starch into the sauce, then return to the pot. Stir until smooth then remove from heat.

10

Garnish with green onions and serve with rice.