Hortapita - Wild Herb Pie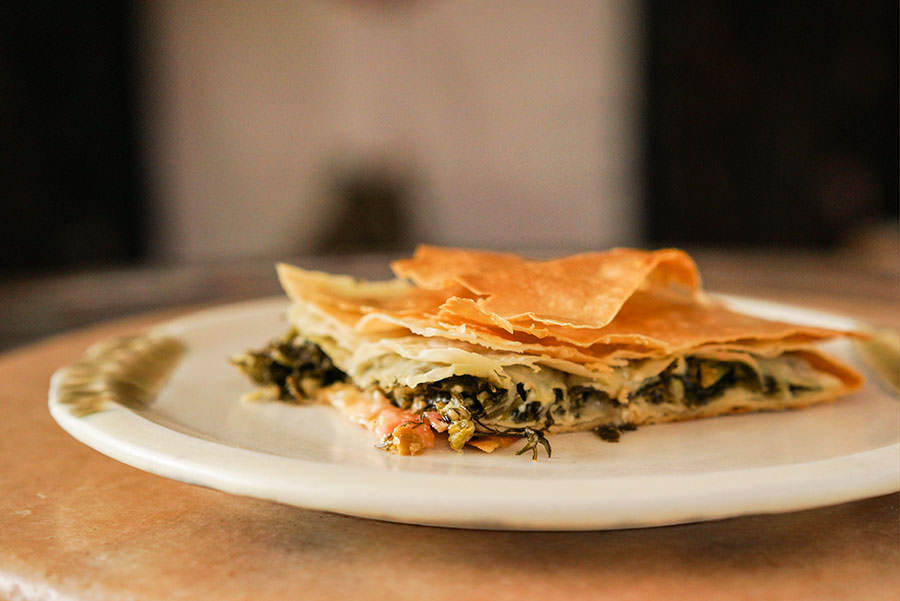 In certain regions of Greece, and above all in Crete, the tradition of cooking wild edible herbs and leaf vegetables from the mountains is still very popular. For this recipe, you can replace the "hortas" with leafy greens and ends you would normally throw away (leaves from radishes, beets, turnips, fennel, leek greens, etc.). 
Ingredients
12 cups leafy greens, according to availability
1 bunch dill
1 bunch mint
500g feta cheese
100g kefalotyri cheese or Romano
Pepper, to taste
1 cup olive oil (about)
1 pack phyllo dough or yufka
Method
1

Preheat oven to 375 °F.

2

Wash the leaves and cook for 3 minutes in a large pot of salted boiling water.

3

Remove the leaves and rinse in cold water. Let them drain in a colander for a few minutes.

4

Chop them roughly and place in a large bowl.

5

Chop the mint and dill and add to the bowl.

6

Grate the cheese, add it to the bowl, and mix.

7

Pour over ¼ of the olive oil and pepper generously. Mix well and set aside.

8

Oil a large roasting pan or mould. Stack 8 sheets of phyllo dough, one on top of the other, brushing each sheet with olive oil as you go.

9

Spread the filling on the dough, leaving a 2-inch margin all around.

10

Place another layer of 8 sheets of phyllo, brushing each with oil again, folding them into the lower sheets to make sure the pie is well sealed.

11

Brush generously with oil.

12

Bake for 30 minutes. Serve warm or at room temperature.