Beet, Sesame and Walnut Hummus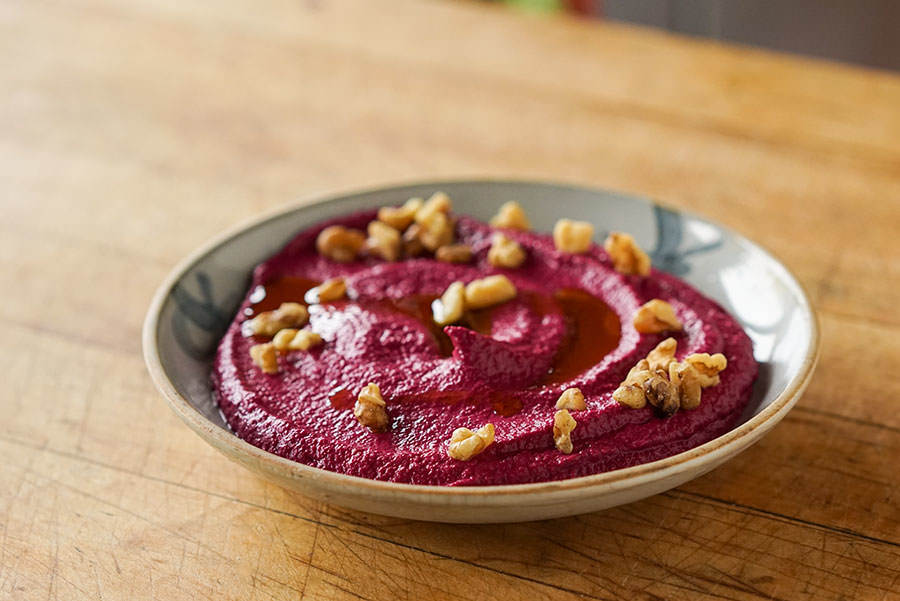 This hummus can be served as a dip, alone, as one of many mezzes, or even as a side to meat or vegetables dishes.
Ingredients
2 cups roast or boiled beets, chilled
1 clove garlic, grated
2 Tbsp lemon juice
2 orange juice
Salt to taste
Black pepper to taste
Chile flakes, to taste
1 Tbsp orange zest
¼ cup walnuts
½ cup tahini, well stirred
2 Tbsp walnut oil or olive oil
Walnuts for garnish
Method
1

Chop beets and place in a food processor. Add garlic, lemon and orange juice, salt, pepper, chile, orange zest and nuts. Purée.

2

Incorporate tahini into the squash mixture, then add the oil of your choice. Add a little water if the hummus is too thick.

3

Garnish, to taste, with nut or olive oil.