Sweet Potato and Pecan Hummus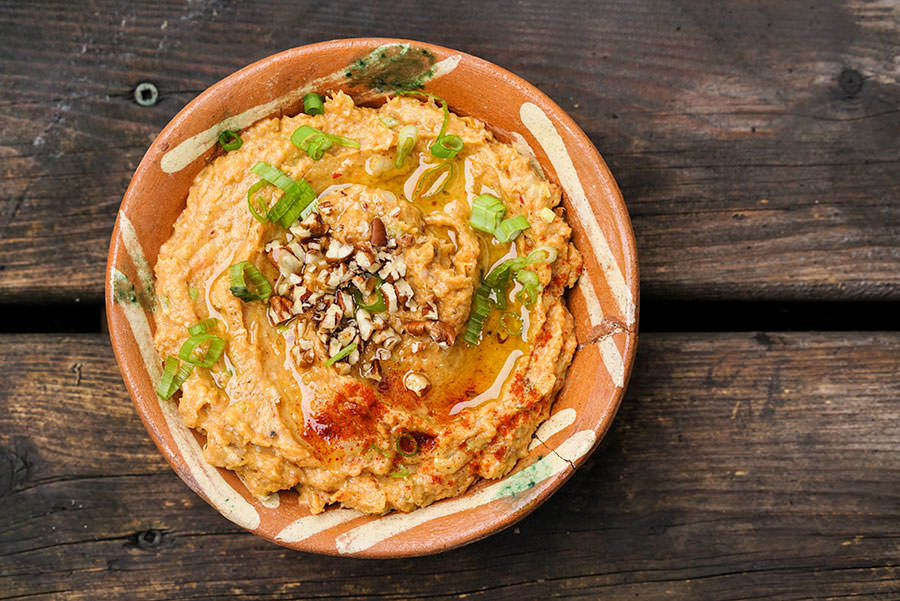 Makes a good dip or side for vegetables, fish, meat and poultry. You can also switch it up with Ethiopian Berbere or Cajun spices for a different taste.
Ingredients
½ cup pecans
4 scallions
2 roast sweet potato, chilled
2 Tbsp lime juice
Salt to taste
½ tsp cinnamon, ground
½ tsp thyme
1 tsp smoked paprika
Chile flakes, to taste
2 Tbsp nut or olive oil
Pecans for garnish
Method
1

Place pecans in a food processor and purée to a fine paste. Set aside.

2

Chop scallion whites finely. Place in a bowl. Set greens aside for garnish.

3

Peel then cube sweet potatoes. Add to the bowl with lime juice, salt and spices. Mash with a fork until you achieve desired texture: smooth or chunky. Incorporate pecan butter to the purée, the add oil of your choice and stir. Add a little water if the hummus is too thick.

4

Garnish, to taste, with scallion greens, pecans, paprika, and a splash of nut or olive oil.