Hunanese pork belly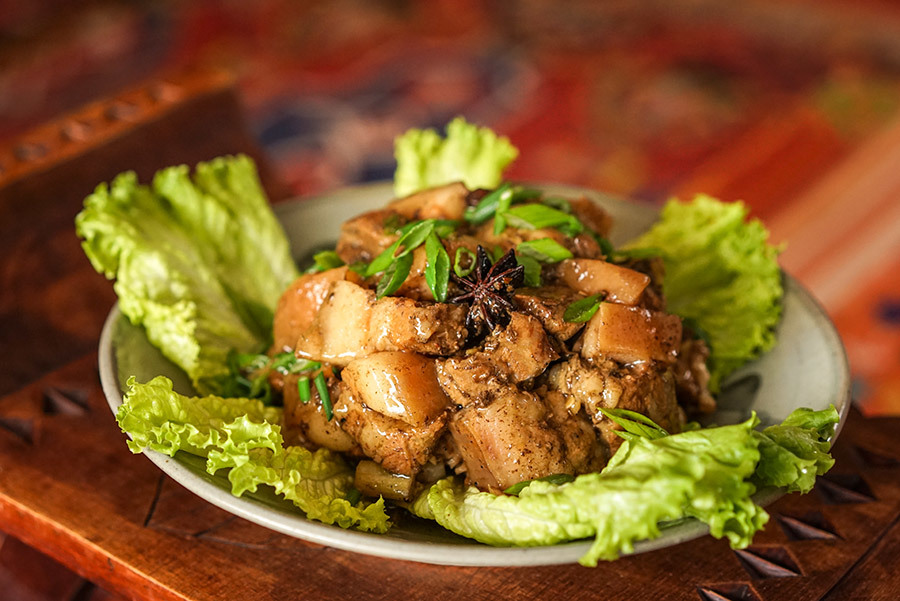 Hunanese food is famously hot. This recipe is plenty spicy- add less chile or none at all if you prefer.
Ingredients
1 lb fresh pork belly, with skin if possible
¼ cup sherry or white wine
4 Tbsp coconut aminos or soy sauce
1 Tbsp honey
2 Tbsp ginger, julienned
1 Tbsp Reshampatti pepper or Cayenne, ground
½ tsp fennel, ground
6 scallions
2 Tbsp arrowroot powder
6 lettuce leaves
Method
1

Bring 6 cups of water to a boil. Cook pork belly in the water for 5 minutes. Remove and rinse in cold water.

2

Chop meat into 1-inch cubes. Lay on a plate or in a bowl that can fit in a wok or pot. Add sherry, coconut aminos, honey, ginger, and spices. Slice the scallions into 1-inch pieces. Add to the plate or bowl and set the greens aside. Add just enough water to cover and stir it all together.

3

Place on a trivet over water boiling in a large pot. Cover the pot and cook for 40 minutes.

4

Check that the meat is fully cooked with a knife. The meat should be tender. Cook a few minutes more if necessary.

5

Pour the juice leftover from cooking into a small pot. Place lettuce leaves on a platter and arrange the pork on top.

6

Boil the cooking juice. Dilute arrowroot powder into 4 Tbsp water. Remove pot from heat, add the arrowroot solution, and stir continuously. Boil for 10 more seconds and pour on top of the meat. Garnish with minced scallion greens.