Hunters' Meatballs in Cream Sauce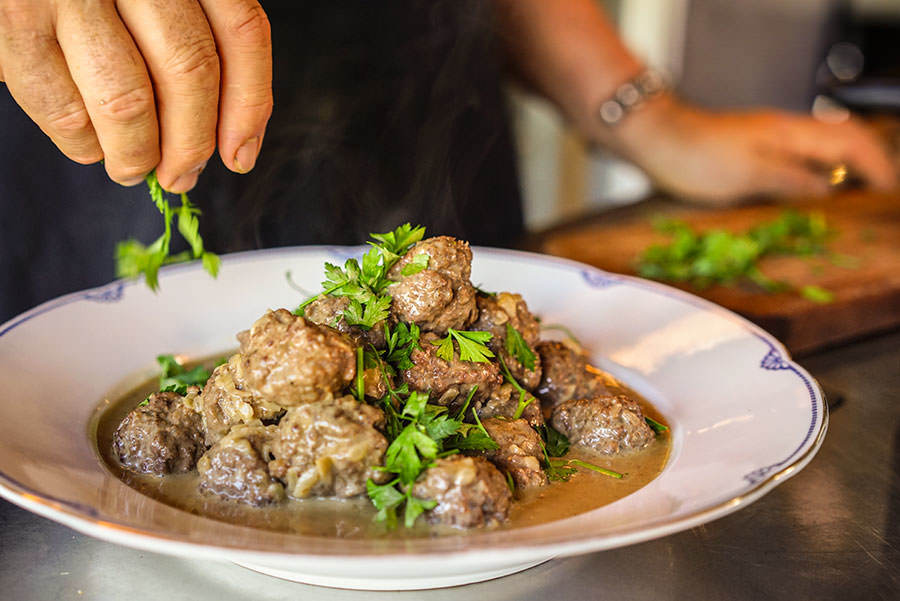 You can make this recipe with the game of your choice: deer, elk, bison… you can also add a little ground pork (half-half) for a juicer texture. We really like these meatballs with a nice fruit jelly, especially once with an acid fruit base (currants, cassis, crabapples, raisins).
Ingredients
1 kg wild meat, ground
1 large onion, minced fine
4 tsp corn starch
1 tsp sugar
3 Tbsp white wine
2 Tbsp olive oil
1 Tbsp soy sauce
3 Tbsp Large Game spices, ground
Salt, to taste
Pepper, to taste
Flour for rolling the balls
4 Tbsp clarified butter or vegetable oil
½ cup cream
½ cup white wine
1 cup chicken or poultry stock
2 Tbsp fruit jelly (or more for garnish)
Method
1

Put the meat, half the minced onion, corn starch, sugar, wine, olive oil, soy sauce, spices, and salt in a large bowl. Mix well.

2

Roll into 3 cm meatballs. Coat lightly in flour.

3

Heat a large pan over a medium flame and brown meatballs in the clarified butter.

4

Leave a little fat in the pan and quickly cook the remaining onion.

5

Deglaze the pan with wine when the onion begins to brown.

6

Pour the stock into a pan and bring to a boil. Add the meatballs and simmer for about 10 minutes.

7

Add the cream and fruit jelly. Mix well and serve hot.