Imperial Kashmiri Curry Guinea Hen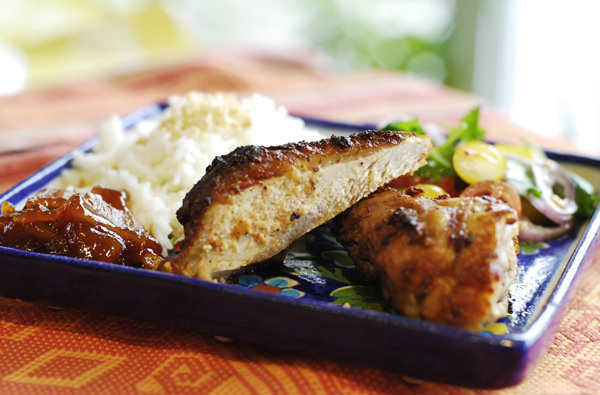 This is a tandoori adapted for Guinea hen. This delicate-fleshed bird is well suited to Kashmiri curry and should be cooked lovingly.
Ingredients
1 Guinea fowl
1 lime or lemon
¼ cup melted butter for basting
Marinade
1 onion, grated
1 tsp ginger, finely chopped
1 garlic clove, finely chopped
1 Tbsp Imperial Kashmiri curry, ground
2 Tbsp olive oil
¼ cup plain Greek yogurt
½ tsp lemon pepper, ground
1 Tbsp tomato paste
Salt to taste
Method
1

Wash the Guinea hen well under running water. Sponge dry, using a paper towel.

2

Open then flatten the hen by cutting through the breast bone. Place it in a bowl.

3

Cut the lime in two. Squeeze the juice on the hen then rub the lime all over the bird to season it. Salt lightly and set aside.

4

Blend all the Marinade ingredients together and pour them on the hen. Rub thoroughly to season well. Cover with cling wrap and let marinate, refrigerated for 24 hours.

5

The following day, remove the bird from the refrigerator one hour before cooking. Preheat the oven to 350ºF/175ºC.

6

Place the Guinea hen – skin side on a baking sheet. Baste, using half the melted butter.

7

Cook for ½ hour. Baste using the remaining butter and cook for another ½ hour. If needed, broil for a few more minutes if the hen is not golden enough.

8

Remove from the oven and let rest 15 minutes in a warm place before carving and serving.




Alternatives:

Replace the Imperial Kashmiri curry with Tex-Mex, Tajine spices or Little Italy blend.