Imperial Kashmiri Guinea Hen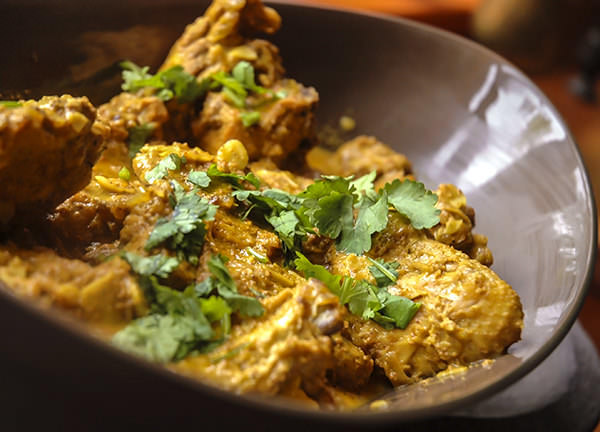 This festive dish is inspired by the royal dinners of Kashmir during the Raj. The same recipe can be used with Cornish hen or pheasant cut into quarters as with large quail or pigeon. For smaller game, simply reduce the cooking time. Whichever game you choose, the result is absolutely magnificent.
Serve with basmati rice, naan bread and a lightly sour chutney.
Ingrédients
2 medium game birds, cut into pieces
3 Tbsp imperial Kashmiri curry, ground
4 large onions, sliced
1 tsp fresh ginger, sliced
Fresh hot pepper, to taste
6 Tbsp ghee
½ cup thick cream
⅔ cup milk
5 ½ oz. blanched roasted almonds, slivered
⅔ cup plain Greek yogurt
Method
1

Remove as much skin and fat from the fowl as possible. Season it with most of the ground curry. Set aside.

2

In a thick pot over medium heat, melt the ghee. Add the onions and the sliced spices. Cook gently until they have turned golden (approx. 20 minutes).

3

Add the remaining ground curry and cook for a few minutes more. Add the pieces of fowl and cook until colored.

4

Pour in the cream and the milk. Salt to taste. Scrape the bottom of the pot to make sure nothing sticks. Simmer over low heat, semi-covered until the fowl is tender (approx. 45 minutes).

5

Add the almonds and cook for a few minutes more.

6

Remove the pot from heat. Beat the yogurt until smooth and blended with the meat. Do not reheat.